Leon, Gav and Stu in Tokyo
Posted on 2006/09/03 07:49:40 (September 2006).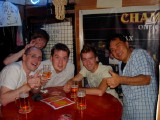 [Friday 1st September]
Three of my friends from England (Canterbury to be precise) were visiting Japan for a week or two, and starting off their trip with a weekend in Tokyo. Although I had seen Gav shortly before leaving England in Spring 2005, I don't think I'd seen Leon or Stu for 2 years (see here and here). So it was really spectacular to have this chance to catch up.

I'd had a bitch of a day at wotk, to put it bluntly, and couldn't leave the office as early as I would have liked. So by the time we got to the guys' apartment in Roppingi it was more or less 9 o' clock. I also met up with TK on the way there, as I thought it would be nice for him to meet some of my friends from England.

The first venue I chose for the evening was a bar called Office in Gaienmae (a short taxi ride from Roppongi). This was a very quiet and relaxed sort of place, which I thought worked pretty well for this point of the evening, especially as we had a lot of catching up to do. The office theme of the bar wasn't as overbearing as it could have been, but there were a few bits and pieces of office parapernalia hanging about. This included pads of paper provided at each table, which Leon took advantage of so he could take minutes, and also a Xerox machine, allowing us to all take a copy of the minutes home with us. Here's an excerpt:

9.33 - nuts come, some sugar puff style snacks - concerns over urine discharged odours - LF to check.

Next up I thought something a little more lively might be in order, so we got in another taxi, and headed to Shinjuku, to go and visit my manager's favourite karaoke bar. The guys seemed somewhat skeptical about going there beforehand, but I'd like to think they enjoyed it once they arrived. I think they'd all been to the box type of karaoke place before, but this may have been their first time to sing in public, as it were.

We made some new friends in the karaoke place whom we relied on to guide us to the next venue for the evening - in Shinjuku's ni-chome (second district?). We first popped into a bar for a quick drink, and from there went on to a club called Arty Farty, as Leon and Gav wanted to dance a bit. To be honest I don't remember this bit that well, it was getting rather late by this point, and it had become a bit of a blur.

We somehow managed to lose Gav and Stu during the course of the evening, and TK had gone for the last train around 12:30. So by the end it was just me and Gav, and we decided to polish off the night's festivities with a trip to a gyudon (beef and rice) shop. They had some sort of vaguely vegetarian looking set menu (basically rice and natto) which I vaguely picked at.

Gettng home was a slightly challenging affair. By chance we were by a station on the Shinjuku line - which I could actually take all the way to one of the two stations nearest our flat. However, I did the classic Japanese thing of falling asleep on the train and missing my stop. Actually I got off several stops too early, then somehow managed to get a train from there going the wrong direction. I then fell asleep again, and woke up god knows where. Third time lucky though - eventually I did manage to both successfully get on the right train, and get off at the right stop. I think I staggered in at a personal-best-beating 7AM.

Post a comment