Tokyo
Posted on 2005/08/12 03:03:40 (August 2005).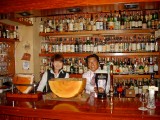 [Monday 8th August]
We had planned to go travelling for a bit, and the first leg of our journey would take us to Tokyo. This was handy as it meant Chie could go to an interview on the way through, and I could also enjoy some very nice whisky...


So we got the shinkansen from Hiroshima around 11ish, and spent hours on that increasingly familiar high speed journey from West to East Japan. We arrived in Tokyo at 3-something and Chie went off to her interview. I had a couple of hours to kill, so headed over to what is probably my favouriute district of Tokyo - Ikebukuro.

Initially went over to Quercus Bar, the whisky bar I had been to previously, but found it didn't open until 6. So instead after a bit of a wander I found the other place just round the corner - called something like Malt-ya, and spent a very happy hour or so in there. It isn't a coincidence that there are two very good whisky bars in such close proximity - Watanabesan of Quercus apparently used to work at Malt-ya. I had a nice chat with the staff in Malt-ya, who were very friendly, and extremely courteous in dealing with my somewhat patchy Japanese. I had a cask strength Yamazaki 1991 in there, followed by Malt-ya's own bottling of Caol Ila (again 1991 as it happened).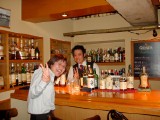 At around 6 I left Malt-ya, as I had arranged to meet Chie in Quercus, and given that I didn't have a mobile phone it would be rather awakward if I changed the plan. Watanabe-san wasn't there this time, which was a shame, but I had a very nice chat with one of the other members of staff who was just as friendly. Had a young Chichibu there - I think maybe only six years old - which was very Bourbony. Also had a delightfully salty Clynelish - a 32 year old Acorn bottling (I assume this is a Japanese bottler). Chie came along around 7ish, and joined me in a drink - although she steered clear of the whisky, I was rather surprised to find they had Old Speckled Hen!



After this we went on to Rohlan the Taiwanese vegetarian restaurant we'd been to once before. The food was just fantastic - if anything even better than the previous time. I had the same vegetarian tonkatsu dish again (it was so great last time I had to have it again), and also a few small dishes - all very, very good.

The evening still wasn't done yet though - we'd arranged to stay with some friends of Chie's, so we went and met them at a bar in Shinjuku station. Inevitably more beer followed.

I'm beginning to discover that Tokyo is in fact a great city - provided you can afford it!


Post a comment