Rohlan
Posted on 2005/05/16 16:05:33 (May 2005).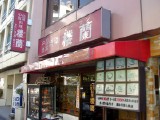 [Monday 16th May]
Didn't do much in the morning, but spent the afternoon and early evening around Ikebukuro, not too far from our weekly mansion. Meant to go to a restaurant called Rohlan for lunch, as recommended by vegietokyo.com. Actually we got there a bit late for lunch, so ended up taking a wander around the area for the afternoon, and came back for dinner instead. The restaurant is Taiwanese. In Taiwan, I'm led to believe, there are a fair amount of Buddhists, and as such vegetarian food is a bit more popular than in mainland China (i.e. the concept actually exists). In fact Rohlan had an entire vegetarian menu to choose from, with a mixture of tofu and "fake meat" style dishes. I particularly enjoyed the vegetarian tonkatsu, and the old favourite bean curd in black bean sauce was done exceptionally well. Also very nice was the daikon mochi (sticky rice cakes with white raddish) and the vegetarian kake-age, which was a lot like the sort of vegetarian chicken style nugget things you get back in England. All in all a really excellent meal. Moreover it was embarassingly cheap - in total something like 18 quid for the pair of us, which included drinks, and we were both stuffed by the end of it. I shall definitely be returning here at some point if I'm ever in the area again.



Comment 1
So then.. Are these places like TARDIS's - larger on the inside than outside? Certainly a mouth-watering array of goodies on the table there!

Posted by Nigel at 2005/05/16 21:07:00.
Comment 2
Great to find a veggie restaurant in amongst all that fish. Fish for breakfast. Lunch and dinner. Fish fish fish. With some fish. And a side order of fish. Did I mention fish with the fish? What about fish? I think I should also note that there is a lot of fish.

In the photo, you look quite at home with the choppiesticks and all the veggie stuff.

Posted by Rob Lang at 2005/05/17 11:34:57.
Comment 3
Nigel - hmmm hard to say - I think this place was of an average size. Perhaps unusually it had a ground floor entrance. Lots of restaurants are on upper floors of tall buildings - it is a bit weird to me still to get in a lift to go to a restaurant or bar or whatever...

Rob - yea it is weird - I suppose now I eat with chopsticks more often than a knife and fork. I have a sneaking feeling chopsticks are not good for you if you already suffer from RSI a bit, although this is unproven.

Posted by John at 2005/05/17 15:16:50.
Comment 4
Just a quick Q, How many people can this place accomodate ?!

Posted by Kaushik at 2008/10/22 09:47:42.
Comment 5
Hmmm there must be seating for at least 50 in there - maybe more. There are a few fairly large round tables which can probably each seat 10 people, then a few smaller tables on the other side.

Posted by John at 2008/11/13 21:13:36.