Quercus Bar
Posted on 2005/05/12 14:37:29 (May 2005).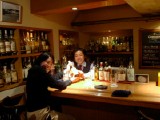 [Thursday 12th May]
In the daytime (the afternoon to be more precise) I'd visited a company in Tokyo for a job interview. As always with these sorts of things it is hard to say how it went, save to say that it could have been worse. Given that this was a fairly demanding process, I thought it important to unwind afterwards, and after meeting up with Chie, we embarked on a short tour of some of Tokyo's fine drinking establishments.



Thinking most bars would not open until 6 or so, we popped into a cafe place to begin with, and then went for a wander around Ikebukuro, a district in which Chie, bless her, had managed to find a couple of whisky bars on the web.

We only went to one of the whisky bars - Quercus Bar, largely because it was just so fantastic there really wasn't any need to go anywhere else. The selection of whiskies was really spectacular - I can think of only one or two rivals in this respect back in the UK. The real highlight though was the atmosphere. Actually when we got there it was empty, but the owner, Watanabesan, was so incredibly friendly and chatty that I felt right at home there within minutes. I really didn't want to leave.


I had three great whiskies whilst there. First, an Ardbeg 1975, very reasonably priced. Second was the surprise hit of the evening - a cask strength (possibly single cask) bottling from Chichibu. This came as a recommendation from Watanabe-san, as apparently one of his friends was now running the distilliery, which is in the process of re-opening after an earlier closure. The Chichibu whisky - "Ichiro's Malt" - had great depth and really tremendous balance, it was a joy to drink. There was a hint of peat, a hint of sherry, and everything just seemed to be in perfect proportions. I don't think I could have had an opportunity to drink this in England, and so this one drink seems to have single-handedly justified my coming to Japan. It really was that marvellous! My third and final dram of the evening was a very respectable Brora.

After the dalliance with whisky heaven at Quercus, we decided we ought to get something to eat, and headed back towards Ikebukuro station, where we found a very nice tempura place. Altogether a great evening.

Comment 1
Glad to hear that the Interview wasn't a complete washout! Got any more planned?

I am not surprised that you've managed to find the Whiskey bar in Japan. You should bring a bottle of the Japanese malt back over for us to sup!

Posted by Rob Lang at 2005/05/16 24:03:54.
Post a comment