Washington to Amberley
Posted on 2018/11/05 20:46:27 (November 2018).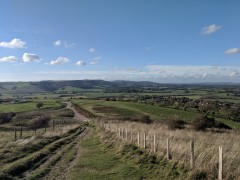 [Saturday 3rd November 2018]
Chie and Erika had another party to go today, so I headed down to the South Downs once again for the sixth instalment of my bit-by-bit walk along the South Downs Way. This time I started where I had left off last time - Washington (so a train to Pulborough followed by a bus from there) to Amberley, which was the next train station along the route. This made for a relatively short walk, just over 6 miles, only a couple of hours of walking, but I'm a bit constrained by where there's public transport available.

On my previous walk I'd only seen a bit of Washington, pretty much just a (closed) pub and a bus stop, but today I got to see what I assume to be some of the older parts of the village, and it was actually quite nice. After getting off the bus around midday the first bit of my walk passed some pretty houses along a quiet back street leading to the church. I can see why Hilaire Belloc liked it here. I then crossed over the A24 on a footbridge, a much easier crossing with this northern option for this section of the South Downs Way, and passed through a bit of woodland, followed by a steepish climb before joining back up with the normal route of the South Downs Way having reached an altitude of 200 metres, which seems to be typical cruising altitude for many of the ridges along which the route follows. Lovely sprawling views from here on, which pretty much remained the case for the rest of today's walk.

Very nice weather today, sunny but not too hot for tweed, a bit of a breeze at times but nothing too serious.

Not really much else to say about the walk - it was just delightful for pretty much the whole way, although I was starting to get quite peckish by 1pm, and slightly wish I'd brought more along to eat with me than a bag of Jelly Tots.

I arrived at the Bridge Inn, Amberley, at just after 2pm, and hungrily devoured one of their halloumi burgers and a pint or two of Harverys. I then got the 3:15pm ish train back to London.



Post a comment