Devil's Dyke to Washington
Posted on 2018/11/04 21:34:58 (November 2018).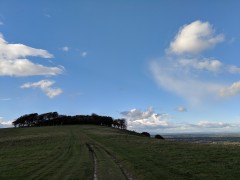 [Friday 26th October 2018]
I had spent much of the time in Lisbon thinking this is all probably very nice, but where I really wanted to be was back out on the South Downs walking. So, having booked this whole week off, I took advantage of my free time today while Chie and Erika were at a party to do exactly that, and pick up where I had left off last time.

As a slight hitch I discovered the buses from the centre of Brighton to the Devil's Dyke only run on weekends and bank holidays. So instead I had to take a taxi to get me to the starting point, but that was easy enough to arrange from Brighton station.

Having arrived last time at the Devil's Dyke on foot and almost immediately left again on the bus, I had thought I might linger a bit at the start this time to take in the views, or possibly even have lunch here on arrival, but instead I was itching to get going with the walk, so again barely stood still in this famous spot for more than a minute or two. I could enjoy the views while I was walking.

The "throngs" of people around the Devil's Dyke itself quickly seem to dissipate, and within 10 minutes or so I had a very gratifying sense of isolation and remoteness. It's a good place to start a walk in that it's already the top of the ridge - I didn't have much climbing to do on today's walk. It's a very pleasant continuum along the ridge top to Edburton Hill and then a gradual descent to the River Adur from there, with great views all along the way.

After crossing the A283 and the River Adur, I followed the South Downs Way through the tiny village of Botolphs, stopping to inspect a road side stall with an honesty box selling apples, although I didn't have the right change, and none of them looked quite good enough to persuade me to overpay, so I continued on empty handed.

Beyond Botolphs a climb, and through a particularly big and smelly pig farm, although the piglets were quite cute. A useful reminder that I have made the right choice in life in being vegetarian.

The next stretch - almost an hour - was a bit dull if I'm honest, the scenery was somehow a bit less appealing, somewhat flatter and a bit featureless.

However it improved again as I approached Chanctonbury Ring, a copse on a hilltop on the site of an old iron age fort, which apparently is known for paranormal activity, but to me just seemed a rather tranquil and picturesque spot. The late afternoon sky had a pleasing sort of depth to it around here, and the trees huddled together atop the hill helped this effect.

A little after that I descended into Washington, rather hoping I might be able to stop for a quick drink at the Frankland Arms before getting the bus to Pulborough, but was disappointed to find a note on the door saying it was closed for the forseeable future. There did appear to be some building work going on inside, so hopefully this means it is a temporary closure for refurbishment rather than a permanent loss.

So instead I just waited for the bus at the bus stop. I still managed to arrange a nice end to my afternoon's walk though - I had a bit of time in Pulborough before the next train back to London, so was able to buy a bottle of Nyetimber in the nice wine shop there, and a bag of chips from the chip shop next to the station, to recreate the lovely journey home we had after our vineyard tour at Nyetimber two years ago. Having also done something similar after visiting Nutbourne vineyard a year ago this is becoming something of a tradition!



Post a comment