Chepstow to Monmouth on the Offa's Dyke Path
Posted on 2018/08/12 14:23:50 (August 2018).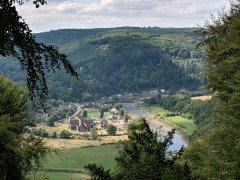 [Saturday 4th August 2018]
It wasn't as early a start as I'd hoped for. It was already gone midnight by the time I had got home from Folkestone the previous evening, I'd set the alarm clock for some ungodly hour of the morning, and then proceeded to lay awake in bed, for at least an hour, thinking "I've got to wake up in 6 hours... 5 and a half hours... 5 hours". In the end the only way I could get to sleep was to turn the alarm off, and just accept that I'd wake up whenever I woke up. So it was that I got the 10:45 train out of Paddington bound for Newport, where I would then change to largely double back on myself and head to Chepstow.

In the rush to get to the station and get on the train as quickly as possible I hadn't really eaten anything, so on arrival at Chepstow I availed myself of the "Firstclass cafe" - a delightful little greasy spoon attached to the station - and had a vegetarian sausage and hash brown bap. Possibly I should have indulged in something a bit more substantial given that I had nearly 6 hours of solid walking until my next meal, but I was eager to get going as quickly as possible, and also didn't want to feel bloated. It seemed to be OK in the end.

I had one more quick stop off to make in Chepstow to pick up a paper Ordnance Survey map covering the route. Although I had the OS maps app on my phone it's always good to have a fallback. As it happens the bookshop where I got it was the one Vera used to live above many years ago, and this became a sort of theme of the expedition - I passed very close by to three of Vera's former residences during the course of my walk today, and a few more on the bus back to Newport the next day, given that it went by way of Raglan and Usk.

So it was about 1:45 by the time I was heading out of Chepstow, crossing the bridge over the river Wye - waterway I'd be seeing a lot of today - and joining the Offa's Dyke path.

The first half an hour was through fields and modest hills, but after that it takes a sudden turn for the dramatic, when the river I was crossing over on the bridge a little earlier was now quite far beneath my feat, at Wintour's Leap. It was nice to be treated to one of the more notable scenic views so soon into the walk, albeit that the river is a decidedly muddy brown here, and not perhaps at its most picturesque.

The path then heads away from the Wye for a while, compensated for slightly by at times having far reaching views to the East, across the river Severn instead.

Once I got to the Tidenham Section of the Dyke, a little over an hour outside of Chepstow, I felt I was into somewhat familiar terrain. The part of Offa's Dyke I've been on most is the section up above Redbrook - to the South - which we'd several times been on with Dad to do a mile or two and then back again. That type of ancient woodland atop the ridge seems to occur in a few bursts along the strecth between Chepstow and Monmouth, and this was the first I encountered today.

The downside, of course, of the ancient woodland on the hilltop is that it means for much of the walk there are no views. The tree cover does occasionally break though, and when it does it's very dramatic - and perhaps the most famous view being the Devil's Pulpit. This I reached at around 3:30 and it was rather spectacular. Although it was, of course, one of the few points on the walk when my otherwise largely uninterrupted solitude was, well, interrupted. There were as many as six (6!) other people there. So I didn't linger quite as long as I might have had I had the place all to myself, but I did take a few photos and I think they came out reasonably well.

The Wye Valley is famously the place for which Gilpin first coined the term "picturesque", and although I'm unsure whether it was specifically this view from the Devil's Pulpit which was the spark of inspiration it's tempting to imagine that it might be. The rocky promontory from which the devil would supposedly deliver sermons to the monks below is a natural viewpoint, and the sweeping landscape forged out by the Wye, with the ruins of Tintern Abbey among it, framed by the trees, does look so perfect as to be tempted to imagine it was all planned that way.

With just the slightest twinge of envy toward the people enjoying a carefree afternoon having a picnic while enjoying that view (presumably having parked somewhere close by, and therefore being unconcerned at the though of any long trek ahead of them) I purposefully marched on, conscious of the fact I was probably only about a third of the way from Chepstow to the Boat Inn, and if I wanted to be there in time for dinner I couldn't be lingering anywhere for too long. I did seem to have really got into my stride at this point, and felt I was really bounding along.

Around 4pm, just before Brockweir I emerged from the woods, was treated to wide open views of rolling hills, before then being faced with a decision at the fork in the path. Here there are two possible routes which meet again at Bigsweir Bridge. One follows the banks of the river whereas the other follows more closer the route of the dyke itself, and stays higher up. It looked as though the higher route is a bit more direct, as the river goes on a bit of a meander. I also thought it would be a more authentic experience following the dyke more closely, so I chose the higher route.

This turned out to actually be a largely unrewarding slog, and I wish I'd studied the contour lines a bit more closely. A large part of it seemed to be in a recessed path going seemingly endlessly uphill, without any views to speak of. Some combination of the heat and the sense of it being rather unrelenting made this perhaps my least favourite section of the walk today, and in hindsight I wish I'd gone along the river. Things did improve a bit as I started to approach Bigsweir Bridge, there was an atmospheric downhill section through a bit of woodland strewn with moss covered boulders. Beyond that, once I emerged from the woods, there was open scenery once more, and very nice views down to the river and Bigsweir Bridge. I recall feeling rather elated at that point.

Bigsweir Bridge was a comfortingly familiar sight, a notable feature on any drive along this section of the Wye Valley, and although I was aware I'd have a hill to climb again the other side I felt reinvigorated once more by passing this landmark.

It was now about 5:30, and I had a further hour and a half to go to Redbrook, so I felt somewhat onto the home straight. Yet more ancient hilltop woodlands to proceed through and I have to admit my thoughts at this point were focusing less on the venerable trees and archaic earthworks but more about what I was going to order when I got to the pub.

The final section of ancient woodland was Highbury Wood - the one I was familiar with from walks with Dad when Vera was living in Redbrook, almost 30 years ago now. It felt slightly strange in the early evening, the trees are quite dense here and the light was a little dim already. It was actually a bit sad to be here by myself, a place I would have always previously been for walks with Dad (and probably a reluctant Adrian too). Funny how the exact same landscape can evoke such different moods at different times - I always remember that section of Offa's Dyke feeling quite magical and mysterious, and yet now it had taken on a rather melancholy and almost slightly eerie tone.

My spirits lifted when I emerged from the woods, and down below me saw the Wye, and the old railway bridge which forms the crossing over to the Boat Inn. It's a rather majestic view. My legs were starting to get a bit tired by this point, so the fairly steep descent into Redbrook was a bit of a stumble in places, but I made it to the edge of the village by 7, and a few minutes later I was crossing over the old railway bridge, with the Boat Inn the other side, and feeling rather triumphant.

Although similarly to Highbury Wood I found myself alone at a place I had so often visited with family, there was no ambiguity to the nostalgia here, and I was just straightforwardly delighted to be there. Perhaps it's just down to the conviviality of pubs, or the knowledge that I'd almost certainly be coming back here again with family in the future - Erika has been once and I look forward to bringing her again.

Having been walking for nearly 6 hours, and at least 15 miles to get here I had originally hoped to have a longer and more leisurely stay. However I was conscious I still had to get to Monmouth where my hotel was, and my original hope that I might be able to get a taxi for that last bit seemed a bit far fetched now, especially as I didn't have any signal on my mobile. So, after a Pan Hagarty and some cider, and barely an hour's rest at the Boat, I was setting off again, to follow the Wye Valley Path from here into Monmouth.

Thankfully my feet weren't too sore - on my walk on the South Downs Way last Saturday by the 15 mile point I was really hobbling - but either because the ground was softer or my feet had just toughened up, this time I was past 15 miles and still thought I could do a few more. Especially as the Wye Valley Path mostly followed the river bank for this stretch and was therefore mercifully flat. The sun was starting to set so I kept the pace off, not wanting to run out of light altogether!

I was quite pleased with myself when I found a shortcut, not really marked on the OS map as a proper footpath, over another old bridge and through a field, the other side of which delivered me almost directly into my hotel. The Premier Inn had been the only thing I could find available (perhaps because I left it until the last minute and only booked it on the train on the way down this morning), so I knew I didn't exactly have a night in the lap of luxury ahead of me, but it was good enough.



Comment 1
Another cracking read. Cheers!

Posted by Rob Lang at 2018/08/13 18:19:26.
Post a comment