Acton and Ealing
Posted on 2015/07/18 22:14:19 (July 2015).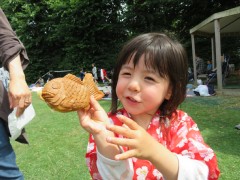 [Saturday 18th July 2015]
Quite a full day today. As is often the case on Saturdays, I began by attending to various domestic chores - tidied up the flat, did some laundry, and spent a bit of time pottering in the garden. Whilst not everything I've planted has been a complete success, there was at least one courgette ready to eat today, and I'd noticed earlier this week a few small tomatoes had finally appeared on the tomato plant. Also pleasingly the strawberry plant had finally flowered - so maybe we'll get some late strawberries - but then again perhaps not looking at the military operation a detachment of ants were carrying on around it.

The main event of today was a Japanese festival all the way out West in Acton, held in the playing fields next to where there's a Japanese nursery. It had all the components I'd become familiar with from festivals in Japan, including the obligatory stalls selling various things on sticks. I did not partake in any things on sticks per se (although Erika did have some kind of dango), but I did enjoy a freshly made taiyaki.

The main draw of the Japanese festival was an Anpanman show, which, when Anpanman finally appeared, did seem to cause a ripple of tittering amongst the grown-ups in the crowd, as the costumes were rather charmingly home made. The kids didn't seem to care.

A few of Chie's "Mama tomo" (Mum friends) were there too, which meant Erika also had some peers to play with, which was nice for her. Although we did have a bit of drama at one point as whilst the Mums were busy chatting, one of their offspring managed to get lost - he'd wandered right to the far corner of the playing field, where there's a very wild play area in a little wooded bit. So that was a bit worrying for a bit, but he was found in the end.

We headed off not long after that, and decided since we're so rarely in this part of London, it would be good to go and try a pizzeria I've been meaning to try for some time - Santa Maria in Ealing. It was a bit of a trek, made longer by the fact we stumbled upon a fun fair in Ealing Common en route, and there was of course no way we could walk past that without letting Erika go on a couple of the rides. Erika looked very suave whizzing round in the miniature open top VW Beetle she chose for the first ride.

Getting Erika to leave the fun fair turned into a bit of an ordeal, and the remainder of the walk to Ealing Green, where Santa Maria is, was not much fun. Santa Maria is a really tiny restaurant, with just a handful of tables, and whilst they did have a spare table for us, Erika seemed to be a bit of a loose cannon by this point in the afternoon, especially as we'd so inconsiderately dragged her away from the fun fair. So we instead opted to get takeaway, and eat it in the park. There was a pub right next door with tables outside which made for a convenient spot to wait while our pizza was cooked, and a cold drink helped revive us all a bit.

The pizza was very good as expected, we ate it sitting on the grass in the little triangle of a park which is Ealing Green. Really good base, very fresh tasting tomato sauce on the margherita, and the other pizza (involving spinach, olives and goats cheese) managed the rare accolade for a pizza bianco that I didn't wish I'd ordered something else.

We had a little wander round Walpole Park after that (I was of course reminded of the start of Monty Python's cheese shop sketch), but I was definitely flagging a bit by this point - it was quite a warm day, and we had a long journey home ahead of us, so I did my best to subtly usher the girls in the direction of the tube.

Once eventually back at home, for dinner (possibly second dinner, unless the pizza counts as a very late lunch, or perhaps an Italian afternoon tea) I was determined to cook something involving the courgette from the garden which looked just about the right size (and in fact seemed to have grown since this morning). So I made a pasta sauce with it, which came out rather well I thought.



Comment 1
Yasai iroiro minotte kitane. Jyouzu ni sodatete sugoi!
Japanese festival tanosisou!!
Kai kun hisasiburi ni miruwa. Otouto mo ookiku natte !? Massao na me ga inshoutrkine.

Posted by yoko at 2015/07/19 03:07:31.
Post a comment