Tuesday in Sestri Levante
Posted on 2014/06/24 23:09:55 (June 2014).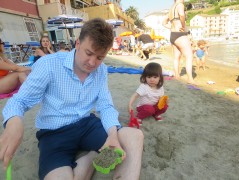 [Tuesday 17th June 2014]
I think when I'd originally booked our hotel for two nights in Sestri Levante I'd originally envisaged we might use it as a base, and possibly make a first foray into the Cinque Terre from here. Despite not being particularly enamoured with the place we'd also become a bit lethargic after yesterday, and ended up just hanging around the town today.

We started off with a disappointing breakfast at the hotel. From previous trips I'd got the impression breakfasts in Italy were generally not much to get excited about, but our hotel in Genoa had done a great job.

We then headed down to the hotel's private beach/pool for a late morning swim. Not quite sure why if it's private to the hotel why we were then expected to pay an entrance fee (for use of the sun loungers / parasol / towels). I was feeling stingy at this point and so we just paid the minimum possible for a couple of towels and nothing else. I managed to have but of a swim - what would turn out to be my only swim of the trip in fact - but the water was a bit too cold still for the girls. It was practically empty, and we assume those in the know wait until late afternoon to use it - or maybe until August.

Erika had her now usual lunchtime nap after that, and we headed into the town centre to do a bit of shopping at the little supermarket which we'd seen yesterday evening, but was already closed. We also went to Frantoio Bo, the olive oil producer just outside the town centre, which a colleague had recommended. The shop there was not permanently manned, and it took quite a while to actually get the attention of the owner, who was presumably having lunch. Still, despite the rude interruption she was very courteous and let us sample some of their oils, and talked to us a bit about the production methods, etc. The oil was very good, so we bought a couple of bottles to bring back home.

We then picked up some foccacia for lunch, which we took back to eat on our hotel balcony.

After that we headed back into the town once more, to a gelateria called "100% Naturale" which we believed rightly or wrongly might produce relatively healthy gelato. It wasn't bad, but a far cry from the wonderful experience at Profuma di Rosa in Genoa.

Chie was keen to try the beach again, and this time we went to the little sandy public beach in the town centre, where encouragingly there were lots of families with young children. Erika seems to take a while to acclimatise to this environment, she's unsure of the water, and doesn't really seem to like the feel of sand on her skin. However, I went and bought her a bucket and spade set which seemed to revive her interest, and after a bit of digging with Erika, I remained on the beach and embarked on an ambitious plan of excavations, whilst the girls went for a bit of a paddle. So that was quite pleasant.

For dinner we decided to try one of the places we'd wanted to go to yesterday, but had been closed. It was a pizzera called I Due Forni, which did indeed have two ovens (not sure why). It was perhaps less well suited to Erika than yesterday's place though, as they didn't have any pasta on the menu. We ordered her a small pizza but she didn't really eat much of it.



Post a comment