Highgate
Posted on 2014/03/01 21:57:14 (March 2014).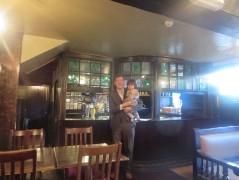 [Saturday 22nd February 2014]
Recently I've been considering that it might be quite nice to look at least a bit further afield in our seemingly never ending search for a flat or a house to buy. Somehow or other the idea of Highgate got into my head, and so this week I had found a flat for us to go and take a look at there. If nothing else I thought it would be an excuse to see a different part of London, and while we were there we could have a nice pub lunch and a bit of a wander around.

So we headed up North towards the end of the morning, arriving in Highgate around midday, and made the Flask our first port of call, where we had a very pleasant lunch. We had been once, six years ago, and I'm pleased to report it's still very nice, even if it has in my opinion slightly regrettably gone a bit too far down the gastropub route - I don't think anyone there was just having a drink, which always makes pubs feel a bit less pubby to me. Still, the food was actually good (I had an interesting vegetarian option - stuffed savoy cabbage with mushrooms and pearly barley) and they were very child friendly - lots of other families with young kids there.

The flat viewing wasn't until 3:30 which left us at a bit of a loose end. We wandered vaguely for a bit until we found ourselves down the hill at Archway, where we were planning on getting on a tube down to Kentish Town (another area I had my eye on), but then Chie started to feel a bit unwell, and in the end she decided to just head home instead.

I kept Erika with me to give Chie a bit of a break, and she actually nodded off soon after that, so I went for a walk with her over to Crouch End - the flat we were going to look at was inbetween there and Highgate. Crouch End is one of those almost fictitious places to me - I've heard it mentioned in various places over the years, and have an image of it being full of actors and comedians - but because it's a bit out of the way I'd never been there until today.

I have to admit I was actually a bit disappointed, at least by the "centre" of Crouch End, which mostly seemed to be all the usual chains you'd find anywhere else, and certainly as far as coffee shops went I couldn't really find anything independent. I ended up having to go into a Starbucks, because I really wanted to use the toilet and couldn't find anywhere else (particularly as I had a buggy with a sleeping toddler with me). As I'd made use of the facilities I felt compelled to buy something - I ordered a macchiato and it was just foul. I only had a few sips and left the rest, then, despite not having really been looking for a coffee in the first place, felt I had to find somewhere to take the taste away, so unwittingly went into the Harris and Hoole next door. To the untrained eye it looks like it might be a credible independent coffee shop, but only after I'd been in there a few minutes did I remember this is in fact that chain owned by Tesco, which rather cynically attempts to pretend to be an independent coffee shop. The macchiato here was an improvement, but still not great.

One way or another I suppose these escapades at least killed time, and eventually it was time to go and look at the flat. That turned out to be a disappointment too - it had seemed huge (by London standards) in the brochure - 4 bedrooms (!) - but it was all carved up into lots of pokey little rooms, and it felt cluttered and not particularly big once I was actually in it. The current owners didn't actually seem to have a dining table anywhere which I found particularly off putting. Oh and the garden was a bit water logged, so that was hard to appreciate too. On top of all of that it turned out to be at least a 15 minute walk to Highgate tube station, which made it feel really rather remote.

So we won't be putting an offer in on that place.

Erika and I headed back to SW1 after that, stopping off at Sainsbury's on the way home to buy things for dinner. I made Indian food - sag aloo, dal and mutter paneer. I was particularly pleased with tonight's dal, which was made using individual spices (I usually cheat and use curry paste).



Post a comment