The North
Posted on 2008/02/02 09:55:56 (February 2008).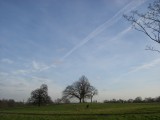 [Sunday 27th January]
Both Chie and I decided today that following a somewhat gloomy week, we very much needed a good breath of fresh air this weekend. So I had decided it might be nice to go up to North London, and take a bit of a stroll across Hampstead Heath. Better still, for some time I'd wanted to visit the Flask in Highgate - so this would be a perfect opportunity - we could get the tube up to Highgate, have Sunday lunch at the pub, walk across the heath to Hampstead, and then get the tube back from there.

So we got the tube to Archway, and then took a pleasant stroll up the gill and along Highgate High Street, and on to the Flask. It lived up well to my expectations - the atmosphere of a country pub, and lots of little nooks and crannies inside. As it happens it was just about warm enough to sit outside - a rare treat for January - and so we had lunch out on the patio, amidst the rather eclectic mix of chairs and tables. Lunch was very satisfying - often for a Sunday roast the vegetarian option is something completely different like a vegetable lasagne, and I am forced to look on enviously at other people tucking into their roast potatoes and Yorkshire puddings. Here though the vegetarian option was some sort of pastry thing with cheese and mushrooms, and besides that it exactly resembled the standard roasts - potatoes, Yorkshires, gravy, and a few token bits of vegetables.

After our hearty lunch we then headed out for our stroll over the Heath, seemingly along with the rest of the population of North London. It was a rather nice day, so you couldn't really blame them. Our walk seemed a lot shorter than I'd anticipated - it wasn't long before we were in the familiar territory that is Hampstead. Once there we decided we'd re-enact an old tradition, and walk over to Finchley Road to go to the Waitrose there (which has recently moved to the building next door and so is a bit bigger now).

Funnily enough we spotted Simon Amstell, presenter of Never Mind the Buzzcocks, on the way - carrying two bags of shopping.

There's also a Japanese and a Korean food shop fairly close to the Waitrose, so we also popped into those.

Back at home in the evening we had nabe for dinner, attempting to recreate a rather tasty one we'd had at Chie's friend Mika-san's house a few weeks back. We ate it with ponzu, a kind of citrusy soy sauce, which is really quite delicious.



Comment 1
That brings back memories of a coach trip with CAMRA in the early 80's. The Flask was lovely. On the way home, the driver did not stop at the first service station, but the second, to the agony of everybody's bladder!

Posted by John's Mum at 2008/02/03 09:54:41.
Post a comment