Dogo Onsen
Posted on 2013/03/11 12:29:19 (March 2013).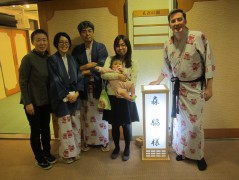 [Sunday 10th March 2013]
Today was the first day of our two day trip to the famous Dogo Onsen and Matsuyama on the island of Shikoku, the smallest of the four main islands of Japan.

It was also Erika's six month birthday!

We left the Moriwaki residence in Hiroshima in the morning, and headed for the ferry port, where we boarded the ferry bound for Shikoku. The ferry was a bit "boroi" as they'd say in Japanese - old and a bit grotty around the edges, but nonetheless pleasant enough in its own way. The weather was a bit grey on the way there, so the pictures aren't particularly inspiring, but it was a fairly interesting route, including a passage through the fairly narrow Ondo-no-seto strait between the main island of Honshu and the island of Kurahashi.

The ferry arrived at Matsuyama around midday, and then we had what felt like quite a long taxi ride to our hotel, the Dogo Prince, in the Dogo Onsen resort area, which is sort of a suburb of the main city of Matsuyama.

After lunch, we spent the remainder of the afternoon wandering around the Dogo Onsen area, and the girls had a dip in the baths of the main onsen complex while I took Erika for a walk around the town, taking in some blossoms (not the all important cherry blossoms yet, apparently) in the little park.

Towards the end of the afternoon we hired a family bath room for a short while, so we could introduce Erika to an onsen for the first time. The water was too hot for her to bathe fully - over 41 degrees - so we just dangled her feet in it a bit. Not sure she really understood what all the fuss was about, but it was a nice moment for the rest of us.

We ate dinner at the hotel, as is the tradition when staying in a traditional ryokan style place. We had a sort of banqueting room for our group of six. As it had just recently been Yoko-san's 60th birthday the staff of the hotel persuaded her to (very briefly) wear a sort of red jacket with a matching hat. Yoko-san took it off as soon as the picture had been taken.

Chie had mentioned I was vegetarian and the hotel had made a pretty good effort to create the sort of multi-course meal you usually get in a ryokan. There's usually lots of little plates and bowls - some with only a mouthful of food in - I always feel sorry for whoever has to do the washing up. Perhaps the most memorable part of this meal was the salt slab with a flame under it, for grilling vegetables on. I'd never seen this style of cooking before.



Post a comment