Miyajima
Posted on 2013/03/11 12:29:18 (March 2013).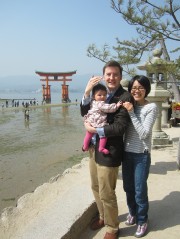 [Saturday 9th March 2013]
We took Erika for her first visit to Miyajima today, which was also her first opportunity to meet lots of the Moriwaki family.

After arriving in Miyajima we headed for the umi-no-tori (the big red gate which stands in the sea). This gave us the chance to recreate one of our wedding photos, but with Erika in it. The composition was a bit different - as were our costumes of course - but it captured the spirit of the thing.

After a quick lunch al fresco, we went to visit Chie's Grandmother. She's in her nineties now, and in a care home, which is conveniently just metres away from where Chie's uncle lives. Erika was a bit hit with her hi-obaachan (Great Grandmother), who couldn't stop saying "kawaii!" (the Japanese word for cute / pretty). In fact this became something of a theme for the day, and I joked later on that Erika might think that's her name.

The next visit, just down the road, was to Chie's uncle Masaru-san, his wife Reiko-san, who also had their grandchildren Mio-chan and Rio-chan visiting. Chie's Dad is one of four brothers, and Masaru-san is the oldest, making him sort of the head of the family I suppose. He runs the family business - an oyster farm - on Miyajima - and their house is partly a home, part office, part factory.

After that we headed off for the ferry back to the mainland, but had one more family visit to make before heading back to Hiroshima - one of Chie's other uncles, Kazuyoshi-san, and his wife Naoki-san, in Miyajima-guchi - the town on the mainland where the ferry to Miyajima goes from. They also had visitors - their daughter Sato-chan, her husband Yamasaki-san, and their newborn baby Kohe-kun. We'd met them around this time last year whilst they were honeymooning in Paris, when Chie was pregnant. So it was really nice to meet them again with our respective babies, and have Erika meet one of her second cousins. She seemed quite fascinated by him - I think it might be the first time she's met a baby younger than herself.

We headed back to Hiroshima after that - quite a full day!



Post a comment