Emirates Air Line and East London
Posted on 2012/12/08 18:33:42 (December 2012).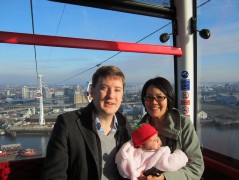 [Saturday 8th December 2012]
Today was our wedding anniversary - 6 years - can you believe it?

As we got married by the sea (and Miyajima's famous "umi no tori" or sea gate), and had our reception on a boat, we've had this sort of running theme since then that our wedding anniversary has to involve water somehow. It gets more and more tenuous every year, but this year we thought it would be a good opportunity to go and try out the Emirates Air Line - the new cable car / gondola crossing over the Thames built for the Olympics.

So in the morning the three of us headed out, and got the tube to North Greenwich. - where the Millenium Dome is. From there it was a short walk to the terminal for the cable car. I was surprised by how tall the whole thing was - somehow I'd imagined something a bit naff and half arsed - it being modern Britain after all. But it's actually a rather impressive towering construction, as hopefully the pictures give a feel for. The ride is relatively short but we really enjoyed it, and I like the fact we could pay with our Oyster cards (and, like the rest of the Transport for London network it was cheaper than paying in cash). The views from the top were quite impressive, although it was a bit difficult to take pictures as there were other people sitting on the side with the better views.

From there, I thought it would be nice to have lunch at one of the riverside pubs along the North bank of the Thames in East London, so we got the DLR from Canning Town to Westferry. I had originally planned to go to the Grapes, but rather disappointingly on entering were told kids weren't allowed - it's the first time this has happened actually, and I'd started to think kids not being let into pubs (at least the sort of pubs where food is served) was a thing of the past. Undeterred we pressed on to the Prospect of Whitby, where we were quite welcome, and ended up probably being a bit nicer anyway. As it's a Taylor Walker pub they have the standard menu including vegetarian fish and chips (fried halloumi in batter!) and theirs was a particularly good execution of it. We managed to get a nice table by the window, overlooking the river, so this was all rather lovely.

Next, as we were in the area, we popped over the river to Rotherhithe to take a quick look at the Brunel museum there - the site of the engine house for the Thames tunnel, which is actually now used by the Overground line (formerly the East London line) which we'd just used to cross the river. It's actually the oldest section of tunnel on the whole London underground - as it was built for a different purpose and predated the rest of the underground - and was the first ever tunnel under a navigable waterway in the world. The museum was pretty small, and fairly light on actual exhibits, but I like anything Brunel related so I was quite happy. The Thames tunnel of course was a joint effort of two Brunels - father and son. To that end, there's a lovely picture in there of a dinner held in the tunnel to celebrate its opening, and the note attached to it rather touchingly explained that although Brunel senior is included in the painting, he apparently didn't actually attend, because he didn't want to steal the limelight from his son Isambard. Considering how incredibly well known IKB is today, that was a pretty magnanimous gesture by his comparatively lesser known Dad.

From there we headed back over the river again to Hackney. Chie's friend Christina was visiting London from Athens, and had said she was going to be in Hackney until 3ish, but owing to communication difficulties we ended up not actually managing to meet there. Despite this setback we took the opportunity for something of a cultural safari to a part of London I've often heard about, but have never been to - it being somewhat hipster central. On arrival we did what I assumed to be the done thing when in hipstery neighbourhoods - and find a coffee shop. It was rather pleasing to achieve this by technological means - to determine where those in the know about this neck of the woods considered to be the best place for coffee - and moreover by use of technology I had helped to build. Our first attempt was unsuccessful - through no real fault of the technology the cafe in question was closed for a private party. However, it did cause us instead to stumble on a bizarre little cluster of high end brand outlet shops (Pringle, Burberry and Aquascutum), which didn't really fit with my mental model of Hackney and its hipster demographic, but did provide a good place for Chie to buy a nice pair of gloves and a scarf. Our second attempt at finding a cafe was then more successful, and we had a pleasant late afternoon coffee in the Wilton Way Cafe, which the wonders of modern technology had already informed us was child friendly.

Having realised we weren't going to manage to meet up with Chie's friend in Hackney by this point, we decided to head home.

We had a bit of dinner back at home, and a bit later on in the evening we did eventually manage to meet up with Chie's friend Christina and her husband Vassilis. After all that messing around trying to meet up at the far reaches of the known world (Hackney) it turns out that they were actually staying at a hotel in Victoria! So we spent the evening with them in Le Pain Quotidien across the road from their hotel talking about babies (they have two of their own), Greece, socialism, art and London. They're a lovely couple and it was a very nice way to round off the day.



Comment 1
Did you know that March Brunel had a go at inventing a circular knitting machine? Wanted to put rotary steam power to another use.

Posted by John's Mum at 2012/12/09 16:32:05.
Post a comment