St. James and St. John
Posted on 2012/03/25 11:32:04 (March 2012).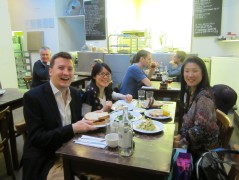 [Saturday 24th March 2012]
Lazy morning and early afternoon indoors. Eventually mustered the enthusiasm to go outside just before 3, and walked to St. James's Park, where we enjoyed the cherry blossoms, and spotted one of the park's resident pelicans. The weather was rather lovely, and it made for a very pleasant stroll.

From there we did a bit of shopping - we had a couple of wedding presents to buy - and eventually meandered in the direction of Smithfields, where we'd be meeting Chie's friend. Chie and her friend Ruriko-san were going to a classical music concert in the evening at the Barbican, they only had two tickets (and it didn't really sound like my sort of thing anyway) so I just joined them for dinner beforehand. We'd originally planned to go to Amico Bio, the vegetarian Italian place near Smithfields market, but were amazed to discover when we arrived that they were fully booked - even though it was just after 5:30, and we told them we'd be leaving by 7. Who books tables in restaurants before 7? It's not even like it could have been one huge group booking either - all of the tables are quite separated. So that was a little bizarre, especially given that it had been near deserted the previous two times we'd been there.

We had a little wander round trying to think of a plan B, and eventually decided to eat at the bar in St. John - where you can't make reservations, and we were the first in line when they opened at 6. This actually worked out really well, there's a nice atmosphere in there, and the food in the bar is sort of like the English answer to tapas - lots of small plates - which seemed to suit the girls very well (this being closer to the Japanese style of dining). I even managed to smile sweetly at the staff and order us a half dozen of their famous Madeleines, which they don't normally serve in the bar. So that was rather good.

I headed home after that, and was thankful after what had been a very busy week of social engagements to just have a quiet night in, whilst Chie and her friend were at the concert. I decided to re-watch Visconti's Death In Venice, which Chie and I had watched a while back, mainly because we've been toying with the idea of going to Venice this year (but can't quite make up our minds) but also because I feel like I didn't really understand the film first time round, and thought I might appreciate it more this time. It's still a strange and disturbing film, and in places is really showing its age. It's probably a good thing that there's so little dialogue because a lot of what there is ends up being close to nonsensical (particularly the dialogue between Aschenbach and Alfred) but I still found it fascinating. Obviously the backdrop of Venice, but also the costumes, and little things (or as it turns out big things) like Aschenbach's luggage. Perhaps you'd call it a mood piece.



Comment 1
yoi otenki de ohana mo kireine. tanosisoune.

Posted by yoko at 2012/04/03 14:31:03.
Post a comment