Lewes
Posted on 2012/03/04 09:48:13 (March 2012).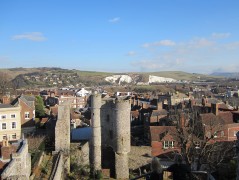 [Saturday 25th February 2012]
We decided it might be nice to go and visit Lewes today. Robin had been fairly recently and had told us it was very nice, and Chie had also heard good things about it from her Japanese friends. It's only an hour or so from Victoria station, which is very convenient for us, so is definitely in the category of "why haven't we been here before?".

On arrival we had some vegetable pakora (you could tell we were near Brighton) and headed over to take a look at the Harveys brewery, and have a lunchtime pint at the brewery tap - the John Harvey. Since developing an interest in whisky I've loved the idea of drinking things at the source, although I can't help wondering in this modern era of logistics if the barrels hadn't actually been transported to a depot in Wolverhampton before being brought back to the pub ten yards away from the brewery. Hopefully the short shelf life of real ale prevents this kind of lunacy from taking place.

From there we wandered through the charming streets of Lewes, enjoying all the characterful old buildings and independent shops, heading in the direction of the castle. We took the tour of the castle, at least partly just so we could enjoy the view from the top, which was all rather nice.

After the obligatory tea-and-a-scone we got back on a train around 5ish and headed back to London.



Comment 1
Great photos of Lewes, John. I love that sign saying "It ceased to be used as such after 1361." In a world of "if it ain't new, it needs knocking down", Britain must be one of the few places where you can see so much urban history like that. Fantastic.

Posted by Bryan at 2012/03/04 18:49:05.