Regency Cafe and Korean Food
Posted on 2012/01/29 10:25:26 (January 2012).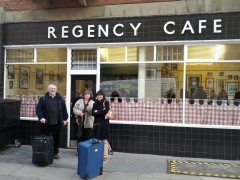 [Saturday 28th January 2012]
Quite a full day - started off with breakfast at the Regency Cafe with Dad and Janie. Dad has made quite a few visits to London during the time we've been here, and has for a long time now been keen to visit the Regency Cafe, and yet for some reason or other it never quite works out. So it was rather pleasing that today it slotted perfectly into the itinerary, and also made for a good way to round off Dad and Janie's stay with us, as they'd be heading on to Guildford after breakfast (although Dad was going to come and stay another night with us on Sunday). We got there before 9 so it was pretty quiet which was nice for a change, and we could be a bit more leisurely about ordering, and didn't have to worry about all the luggage getting in the way.

We waved Dad and Janie off after breakfast, and they jumped in a taxi to Waterloo. Chie and I were then at a bit of a loose end - Chie wanted to do a bit of shopping, but surprisingly some shops still weren't open. So we just wandered down Victoria Street, to where we saw a crane lifting up Little Ben, which was going to be put in storage temporarily whilst some construction work in the area took place. I found this process oddly fascinating.

I also bought a new white shirt at Hawes and Curtis - it's the first time to buy a shirt from there, although I had occasionally browsed their shop on Jermyn Street. As all the shirtmakers in London seem to have slightly different sizes and shapes I was keen to try it on when I got home to check the fit, which resulted in some silly pictures. I've developed a bit of chubby neck in recent years, somewhat disproportionately to my chest size, and as a result if I buy a regular fit shirt for my neck size it looks rather baggy and a bit daft. Consequently I've ended up buying a lot of shirts which I can't actually do the neck up properly. As I've been wearing a suit and tie a bit more recently I've wanted more shirts on which I can do the neck up, and so I tend to go for the slim/tailored fit that some shirtmakers have, where the neck size is as advertised, but the body is smaller. It's almost ironic that these shirts are called "slim fit", as it seems the main use case is for people like me , so they really ought to be called "disproportionately fat neck fit". To add to the confusion, at some (e.g. Charles Tyrwhitt), tailored is actually slimmer than slim, whereas apparently at Hawes and Curtis it's the other way round. Oh and I ideally wanted a non-iron shirt, and one with a slightly shorter arm length. Having been used most of my life to going to the sorts of shops where I just bought things in size 'M', it's a surprisingly complex process to find a shirt that fits properly.

The middle bit of the day we spent at home, doing nothing much in particular, a bit of idle Internet browsing and so on. In the afternoon though I had a sudden urge to make my own kimchi, and so I suggested we take a trip to New Malden, where there's a large Korean community and lots of Korean food shops. I was pleased to discover it's only an 18 minute train journey from Vauxhall, which is a reasonably short walk away for us, and it made me wonder why we hadn't been before since moving back to London. I think the only time I'd been to New Malden was seven years ago, back when we were living in Pangbourne.

We arrived in New Malden just after 4, and after a little consultation of Google Maps figured out where the really big Korean supermarket was, and headed in that direction. On arrival at Korea Foods I got really quite over excited, it's full of interesting and exotic foodstuffs -not just Korean but also Chinese, Japanese and other parts of East Asia - and much of it very reasonably priced compared to central London. They had a lot of exciting looking fresh vegetables too - including things like fresh green peppercorns (which I bought without any real sense of what I was going to do with them), plus of course the all important hakusai (Chinese leaf) and Korean chillis - the vital components for making kimchi. We were in there around an hour and we thoroughly scrutinised every aisle while we were there. I haven't enjoyed a visit to a supermarket as much as that for years.

We got the train back just before 6, and commenced cooking as soon as we got home. I began preparing a large batch of kimchi, which would probably take a couple of days before it was properly ready, although I couldn't resist having an early sample with dinner. The key thing to making your own kimchi seems to be having a blender in order to make the paste of chilli, ginger, garlic and spring onions. Having only recently bought a blender it still seems like a kind of magic wand to me, and I was very pleased with how the "kimchi no moto" as they'd call it in Japan turned out. You can buy this sauce/paste already made up, but regrettably it always seems to have some kind of fish extract in it, and as such it has always seemed like a bit of an unobtainable substance to me. To have successfully made my own for the first time felt a bit like primitive an discovering how to start a fire.

After dinner we watched The Duchess on the telly, and I felt quite sleepy after a fairly full day.



Post a comment