Sunrise and Sunset in Tokyo
Posted on 2012/01/22 18:07:25 (January 2012).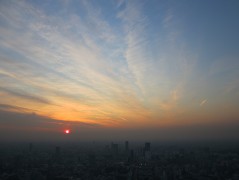 [Wednesday 18th January 2012]
Jetlag had prompted me to wake up every morning before sunrise so far, but somehow or other the first two mornings I'd either gone to have a shower, or tried to get back to sleep, while the actual sunrise was happening. Given that my hotel room was on the 48th floor, despite not quite facing East, it seemed like a good vantage point from which to watch it. Better still today was a fairly clear day.

As a nice compliment to this, towards the end of the afternoon, one of my colleagues at the Tokyo office suggested we go up on the roof of the Mori Building in Roppongi Hills and watch the sunset from there. I suspect we might have been a couple of minutes late to catch the best bit of it, but it was still quite impressive nonetheless, and more so to be able to actually see it in the open air for once, rather than through glass.

In the evening I had decided it was the time of the week for the obligatory pilgrimage to Ikebukuro. I started with Rohlan, which, following our visit last September, seemed to confirm my suspicions that it was under new management, as again I didn't recognise any of the staff, although thankfully they've kept at least some of the vegetarian dishes on the menu. They always used to have an English version of the vegetarian menu, and it hadn't occurred to me that last time I went I was with Chie, who had read it for me. This time I was faced with a page full of kanji to decipher all by myself. I fairly quickly identified the all important vegetarian tonkatsu, but for my other dish ordered somewhat at random from the mock chicken section, and ended up with something involving cashew nuts. I am pleased to report the tonkatsu is excellent as ever, but the vegetarian menu has definitely shrunk, and I rather miss the Taiwanese lady who always used to work there, who once told me I look a bit like "Diana no musuko" (by which I think she meant Prince William).

Quercus was of course next on the very tried and tested agenda. I had given Watanabe-san a bit of advance warning that I was coming, and was pleased that a couple of the other regulars from when I used to live there were also in attendance, including Toyota-san who we visited Chichibu distillery with. I ended up staying quite a while, as some of the guys from the office had tracked me down using Latitude, and in the absence of knowing where else to go asked if they could come and join me. I'm not sure they particularly enjoyed it - none of them are really into whisky, and for me a lot of the charm of Quercus is sitting at the counter and chatting with Watanabe-san and the regulars which is somewhat lost when you're a group of mostly non-Japanese speakers sitting at a table.



Post a comment