Okonomiyaki and Ikebukuro
Posted on 2011/10/01 08:51:00 (October 2011).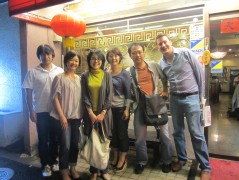 [Friday 30th September 2011]
Left Hiroshima today, and for our last meal there I had put in a special request for okonomiyaki, thinking that would be a suitable thing to have for lunch, and is of course a Hiroshima speciality. We ended up having it in the morning though - originally Chie referred to it as brunch, but it was probably closer to breakfast time! Anyway, whatever the time of day was (and it kind of didn't matter as I was in a foreign time zone anyway) the okonomiyaki, made as a team effort by Chie's Mum and Dad, was delicious. I was also pleased to discover there was a vegetarian version of Otafuku sauce (the standard sauce used on Hiroshima style okonomiyaki. It normally contains oysters, but they make a version for young children which doesn't.

After packing up our stuff, and saying our goodbyes, we got on the Shinkansen from Hiroshima station around 12:30. As before, given that we were using a Japan Rail pass, we had to use slightly slower shinkansen trains, and also change at Osaka. So it ended up being a five hour journey to Toyko (with a direct Nozomi train it's four hours), but long journeys on the shinkansen are never as arduous as they would be on a train in the UK - it's really spacious and comfortable, and also usually very quite as well. Although on this particular occasion a big group from the US got on at Kyoto, who were somewhat noisier than their fellow Japanese travellers.

Chie had chosen a hotel in Ueno for our last two night in Tokyo, largely because there's a really good line from there to Narita. It also has quite a different feel to some of the other hubs of Tokyo (for example Shinjuku) - much older and more traditional, but also a tad grotty around the edges. Still our hotel was nice enough, and very close to the station.

After checking in and dropping of our bags, we got on the Yamanote line (Tokyo's circle line) and headed for Ikebukuro, where we had an evening planned, revisiting my favourite haunts there (Rohlan and Quercus) and meeting up with some friends while we were there.

So we started with dinner at Rohlan, where we were met by two of my friends that I used to work with in Japan (Aoki-san and Tanaka-san) and as an odd coincidence, also two of Chie's friends that she used to work with in Japan (Ochiai-san and Shoko-chan, who had recently been to visit us in the UK). I was slightly concerned to see that the menu had changed a bit, and also I didn't recognise any of the usual staff - but still the old favourites were still there (most importantly the vegetarian "pork" tonkatsu) and given that we were a large group we could order quite a large selection of things to try. We had a fantastic array of really excellent Taiwanese vegetarian food.

After that we headed to my other favourite old haunt - Quercus - for some excellent malts and a chat with Watanabe-san, as well as some of the regulars I used to chat to when I lived in Tokyo. We didn't stay particularly late in the end, but stlll it was great to be back here again, however briefly.



Post a comment