Christmas Eve
Posted on 2011/12/30 10:30:59 (December 2011).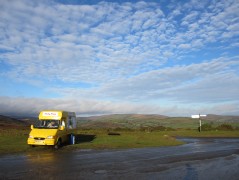 [Saturday 24th December 2011]
Quite a full day today. The main plan was to head to Ashburton to do some antiques shopping, for last minute Christmas presents. So Chie and I headed out early, deciding to have breakfast out, as I was craving something grasy spoon esque. We found this at the Venus Cafe in the Cider Press Centre in Dartington (they have a Crank's vegetarian cafe there too, but it doesn't really do breakfasts). It was a bit pricey for what it was, but they had a vegetarian breakfast, featuring some decent vegetarian sausages and some satisfactory hash browns, so overall my craving was sated and I was quite pleased.

We spent the remainder of the morning and a bit of lunchtime in Ashburton, where we also met up with Vera, Robin and Robert. We were surprisingly successful in our antiques shopping - we found something for Robin and Robert, both of which seemed to go down rather well. Having got used to prices in antiques shops in London everything seemed very reasonably priced here, and pretty much every shop we went in was sort of an Aladdin's cave, many of them spread across several rooms on more than one floor.

We had a cup of tea in the place where Vera, Robin and Robert had lunch, but decided we'd eat later, and left them to it, heading off in the direction of Dartmoor.

We were up on the moor before 2, and eventually found a nice spot near Bel Tor to park up and it for a bit, in a wonderfully middle aged way. It was raining at first but eventually it brightened and we were treated to some very nice views of the moor.

From there we headed more into the centre of the moor, aiming for Two Bridges, and stopped off en route at Pixieland - the shop with all the garden gnomes out front. I'd been past there many times before but had never actually been inside before. We didn't actually buy a gnome - as we don't have a garden to put it in - but we did buy some chutney and the obligatory flagon of cider.

Next stop was the Two Bridges Hotel for a cream tea - which seemed appropriate as we'd had a late breakfast but skipped lunch. We had quite a long wait for it but it was very nice when it finally arrived - complete with a terrifyingly large bowl of clotted cream. It was rather nice to revisit the Two Bridges Hotel as we'd stayed here during our summer holiday last year.

We headed back to Dartmouth by way of Newton Abbot, where I was keen to stop off and try Ye Olde Cider bar, and I was not disappointed. There was of course a spectacular selection of ciders behind the bar, and the girl behind the bar had an impressively scientific way of helping me choose, with a series of questions about what kind of styles I liked. There was a great atmosphere in here, very lively, and with aromas that were full of nostalgia of pubs from my childhood.

We had dinner at the house back in Dartmouth, and a quiet evening in.



Post a comment