Lunch in Canterbury
Posted on 2011/12/18 10:40:48 (December 2011).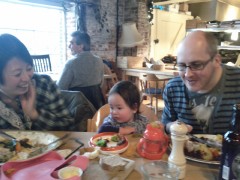 [Sunday 11th December 2011]
Today we got on the high speed train down to Canterbury to meet up with Leon and Yukari.

We arrived at Canterbury West a little before midday, which gave us some time to have a wander round the farmers market part of the Goods Shed, the place next to the station where Leon and Yukari had their wedding reception. We had a coffee and I bought some Cavolo Nero, which seemed to be very much flavour of the month, as it also featured heavily on the menu. I also bought a couple of cheeses - some Ashmore Farmhouse and Winterdale Shaw.

Leon, Yukari and little Aiko arrived just after midday and we proceeded to have a leisurely lunch and a good long natter about life and all that. The vegetarian option was a bit odd - a "platter" with a sort of goat's cheese and pumpkin tart, an omelette, some leeks and cheese on toast, and a bean salad. Still, the quality of the produce was really high, presumably much of it bought from the suppliers in the market that shared the building, and I think I probably enjoyed the side dish of vegetables more than the actual main dish.

After lunch we went to see Leon and Yukari's new house, which, albeit in need of a lot of work, is rather large and sprawling and, given how much cheaper property is there than in London prompted the inevitable "Why don't we move to Canterbury?" conversation. I think I realised though that after so many years of living in fairly small apartments, I actually don't want a big house with lots of unnecessary rooms, it can very easily end up feeling a bit whatever-the-opposite-of-the-word-cosy-is.

We headed back to London around 5ish, stopping off at St. Pancras briefly to do a bit of food shopping - mainly some bread and chutney to go with the cheeses we'd bought earlier.



Post a comment