Sunday in Florence
Posted on 2011/10/30 11:44:20 (October 2011).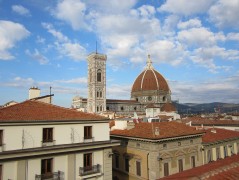 [Sunday 23rd October 2011]
Stayed in the centre of Florence today, and did all the touristy stuff - went to see the Duomo and the Palazzo Vecchio, and had a coffee across the square from the Palazzo in Cafe Rivoire. Standing at the bar, I might add, as it's much cheaper. The standard of espresso in Italy seemed to be generally high on this trip, but I think the one in Rivoire was probably the best. Lorenzo said the same chap had been making coffee there for as long as he could remember, and pointed out how the chap who takes the orders and the chap who actually makes the coffee never actually talk to each other - they have a system of communicating based on how the teaspoon is position on the saucer.

Oh and we went to the famous boar statue too. Lorenzo looked a bit embarrassed as Chie and I had our picture taken there.

Next we went to the Palazzo Strozzi, now an art museum, to see an exhibition called "Money and Beauty" which explored how art depicted the bankers which made Florence so powerful in the middle ages, and particularly the morality of making money from money. I'm sure the timing of this was not a complete coincidence.

More wandering around Florence after that, including an ice cream at Vivoli (the place Lorenzo had previously told us was the second best in Florence, although he remains cagey on where the best is), and of course Ponto Vecchio. Chie actually came close to buying some jewelry at one of the shops there, but eventually decided against it.

By this time it was aperitif o' clock so we headed to a bar which had a sort of carpenter's workshop theme, although inexplicably was called "Volume". We had a Negroni there, which seemed to be the done thing in Florence, being where the drink originated from.

For dinner we went to a very old restaurant called Quattro Leoni for some Tuscan fare. I had two courses of pasta - a kind of tortelloni with pear in it for the first course, and a noodley sort of pasta with porcini for the second. There seemed to be lots of other foreigners eating here, but Lorenzo had been here before and assured us it was actually quite good.

After dinner it was time to start thinking about heading to the station, where we'd be getting on the sleeper train to Paris. So we said our goodbyes at the station around 9:30, bought some basic provisions for the trip (probably just a large bottle of water) at one of the shops there, and then climbed on board.

The sleeper service as ran by Artesia was nearing the end of its contract, and a new consortium would be taking over at the end of this year. As a result of that they were doing just the bare minimum for the last few months of the service. We hadn't been able to book a private compartment, and instead had two places in a "couchette" compartment for four. I'd been a little apprehensive about this, but when we got on board and met our fellow passengers we were somewhat reassured - two very friendly Brazilian chaps, who were seasoned travellers, and had used this service many times before. So we chatted to them to pass the time, until it was time to fold down our beds and try to get some sleep. Rather disappointingly Artesia had apparently also cancelled the bar carriage as well, and although there was a trolley service it seemed to have already retired for the evening by the time we boarded.

Chie managed to get off to sleep without much difficulty, I struggled somewhat. Our beds were very narrow - I couldn't even fit my arms by my side, and had to lie down with arms folded. I suspect this may have partly been because we were on the bottom bunks, and hadn't set them up properly - so we were effectively just sleeping along the chairs. I might have eventually got used to that, but in turns out our friendly Brazilians were also loud snorers. One snored pretty much constantly, the other more intermittently and dramatically. So that kept me wide awake until around 4am, when I think I might have been sufficiently tired to just about fall asleep despite the noise and discomfort. Unfortunately at that point I was disturbed by what I assumed to be somebody trying to get back into their compartment, but having got the wrong number. There then followed two further interruptions by people I later realised were the border police - nobody had warned us that they'd actually partially open the door and shine torches in. In my unprepared, half asleep, and somewhat grumpy state I may have hurled some ungentlemanly language at said border official.

So in the end a mostly sleepless night. Oh well.



Post a comment