Jersey to Guernsey
Posted on 2011/07/24 11:34:12 (July 2011).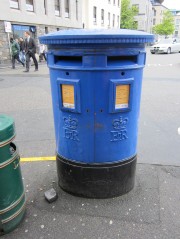 [Wednesday 20th July 2011]
The weather went back to being pretty miserable again today. We checked out of our hotel in the morning, and drove down to St. Helier where we'd be dropping off our hire car before getting the ferry to Guernsey in the afternoon. Had a bit of a wander around St. Helier in the morning but it wasn't much fun as it was rather damp.

The ferry crossing was a bit choppy again - not as bad as it had been on the way over - but visibility was pretty poor, and so it wasn't a particularly enjoyable trip. Still, if nothing else it was at least fairly short - the crossing takes about an hour.

Arrived in a rather damp St. Peter Port, the capital of Guernsey, and headed to the hotel we'd be staying at for our three nights there - the Old Government House. It was a damp and not particularly pleasant walk from the ferry terminal to the hotel - we couldn't find a taxi anywhere and realised we'd have to go up hill a bit to get to our hotel, which was not much fun with bags, in the rain.

After checking in I was somewhat disappointed with our room - probably not helped by the rather miserable journey we'd had in order to get there. It was more expensive than either of the hotels we'd stayed in on Jersey, but was smaller and just a lot more basic, and the decor was just really tired and unimaginative. The bathroom in particular looked really naff - with circa 1980s fittings. Another low point of the holiday. I was sufficiently disgruntled that I asked to speak to the manager and explained my disappointment. She told me they were fully booked tonight, but would give us a complimentary upgrade us to a different room for tomorrow night. I'd originalyl booked this room for the first two nights, and then splurged on a suite for our final night - as it turned out we ended up in this naff room just for the first night, and the remaining two nights in the suite. So I guess in the end it actually worked out rather well.

In the evening we headed out into St. Peter Port and tried to make the most of a night out in the crappy weather. We started off with a drink at the Cock and Bull, which I'd found on the web, and understood to be regarded as one of the better real ale pubs in the town. It wasn't bad - it certainly didn't look as naff and rough around the edges as the pubs we'd been to on Jersey, but instead it had quite a modern feel to it which isn't really my sort of thing. Dinner was a slightly odd affair - for a "starter" we bought some chips from the "Chip Inn", which we'd happen to wander past and looked very tempting. We sat and ate them on the harbour front in an attempt to create a bit of a seasidey atmosphere despite the weather, which almost worked. To follow up we decided to go for pizza at a slightly naff looking pizza place called Valentino's. The pizza was at best average but the staff were very nice at least.



Post a comment