Travelling Back
Posted on 2010/06/27 09:56:30 (June 2010).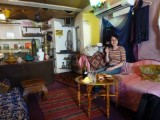 [Saturday 26th June 2010]
Travelling back from Dartmoor to London by way of Exeter.


Comment 1
Fantastic photos of your holiday, John. You always manage to convey in your photos how much you obviously enjoy the places you and Chie go to.

Posted by Bryan at 2010/06/28 17:01:29.
Comment 2
Thanks Bryan!

Posted by John at 2010/07/01 22:40:40.