A Foray into Herefordshire
Posted on 2010/03/06 11:08:19 (March 2010).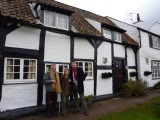 [Sunday 28th February 2010]
Visited Baileys Home and Garden emporium and then lunch at the Lough Pool near Ross on Wye. Also popped into the Cherry Tree in Tintern on the way to the station.


Comment 1
Gosh, I envy you such old fashioned places. Our cafés are so depressing over here. Not the same cosy atmosphere.

Posted by Sheri at 2010/03/08 15:34:29.