Tuesday in Tokyo
Posted on 2009/12/31 03:47:39 (December 2009).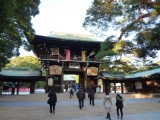 [Tuesday 29th December]
Was originally planning to work from my company's Tokyo office today, but when I'd gone in yesterday I found out they'd be on their year end holidays as of today, and the office would be completely empty (and therefore difficult to even get in!). So I decided to work a day towards the end of the trip instead. Chie had already made plans to go shopping with some of her friends in the daytime, and I didn't really feel like joining in with that, so I ended up at a bit of a loose end.

So after checking out of our hotel I went for wander around Akihabara, although I wasn't particularly in the mood for buying any gadgets (I recently got a very nice new phone and bought a new camera on my last trip back in October, and there wasn't really much else left!).

I did however decide to go and try out a rather weird Akihabara institution - the "maid cafe". I think this has it's origin in manga, which would explain why there are so many in Akihabara. The staff are all dressed in cartoon style maid costumes (at the place I went to they were all bright pink, including bright pink hair) and they serve food and drink with a lot of bizarre and cute rituals.

There was a sort of incantation which I was required to follow along with as they served my tea and cake, which went along the following lines:

"Oiiiishikunare, ravu, ravu, PINKY!!!!"

...with corresponding actions. This was intended to make my food taste better (oishikunare is Japanese for "become tasty"). I also ordered a sort of smoothy, identified simply as "green cocktail". It came in a rocket shaped cocktail shaker, and as they brought it in they put on the Thunderbirds theme tune, and made wooshing rocket noises, plus some further exuberant incantations which I didn't really catch.

It was all charmingly nuts, and very Japanese.

After leaving Akihabara I headed over to Harajuku and visited Meiji Jingu - it occurred to me I had never actually been there before. Hmmm can't really think of much to say about it really! From an ignorant Westerner's point of view, once you've seen one shrine you've pretty much seen them all (with the exception of Itsukushima shrine on Miyajima of course, which is rather unique and spectacular).

After Meiji Jingu I met up with Chie and her friends Ai-san and Yuki-san to go for a drink in a cafe on Omotesando (a famous shopping street in Harajuku).

The remainder of the day was spent travelling to Hiroshima, which was pretty uneventful but it was very nice to be on the Shinkansen again.



Post a comment