Nozaki-Sensei and Ikebukuro
Posted on 2009/12/28 14:56:55 (December 2009).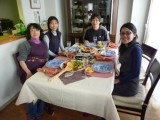 [Sunday 27th December 2009]
First day of this trip to Japan. After checking in to our hotel in Shibuya we went to visit Chie's university tutor - Nozaki-sensei - out in the suburbs. In the evening we did a quick visit to Ikebukuro for my old favourite haunts, Rohlan and Quercus.



Comment 1
Ah, Quercus... Ah, rohlan... Happy memories!! :P

Posted by Lox at 2009/12/28 17:59:15.