The Whisky Show
Posted on 2009/11/15 09:24:55 (November 2009).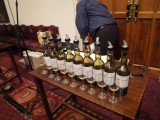 [Saturday 7th November 2009]
Spent the afternoon at The Whisky Show, held at The Guildhall - including a once in a life time tasting session of all nine official distillery releases of Port Ellen.


Comment 1
Whisky is too bitter to my liking. My godmother, who's got a penchant for chartreuse (a spirit made from aromatic and medicinal plants in the Vercors) made me drink some of it. The content of alcohol is higner than what you get in whisky, but it's very sweet and I must say I quite liked it. You should try.

Posted by Sheri at 2009/11/16 21:02:30.