The Whisky Show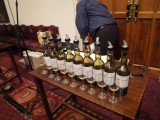 Saturday 7th November 2009

Spent the afternoon at The Whisky Show, held at The Guildhall - including a once in a life time tasting session of all nine official distillery releases of Port Ellen.

London November 2009
13:40:55 Me outside the Guildhall.
16:51:02 Colin Dunn nosing the Port Ellens ahead of the masterclass.
16:51:12 There they are - all nine official distillery releases of Port Ellen.

16:51:22 Colin says hi.
16:51:27 One last shot of the bottles before I went to sit back down.
16:54:54 My tasting glasses.

16:57:50 Same again from mobile.