The Goring and The Lamb
Posted on 2009/11/04 21:56:28 (November 2009).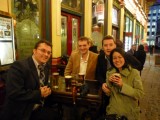 [Tuesday 3rd November]
Went for lunch at The Goring today with Al (who recently left the company) and the same crowd from Friday night. It had been a long standing item on our to do list, and it seemed that we were only able to get our collective act together after Al left, but anyway, it made for a rather nice second farewell event.

I really enjoyed it - The Goring has a sort of timelessness about it - very nice decor and a distinctly gentile atmosphere. The food was very good indeed (even the vegetarian options - it's not the sort of place you'd immediately expect that) and the service was impeccable too.

Wanting to be able to really take my time over it I had booked the afternoon off work, which was somewhat fortuitous as it turned out Tim was in London today for work, and had finished around 4 - rather perfectly timed to coincide with the end of our very long lunch at The Goring. So we headed over towards the City to meet up with him, and had a very pleasant couple of hours at the Lamb in Leadenhall Market, where we were also joined by Chie.

We escorted Tim to Euston to get his train around 7:30, but it turned out he had about an hour to wait, so we had a surprisingly-not-that-bad pub dinner in The Britannia in Euston station.

Overall a very enjoyable day indeed.



Comment 1
Nice reunion there!! I like Tim's outfit, very smart :D

Posted by Lox at 2009/11/06 15:03:16.