Houses of Parliament in the Evening
Posted on 2009/09/08 22:40:26 (September 2009).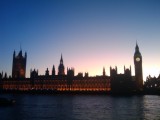 [Tuesday 8th September 2009]
Some Thameside shots of Houses of Parliament taken on a very pleasant late summer's evening. Oh and also a few shots of dinner - tortelloni with home made pesto.


Comment 1
Nice piccys of H of P..
Wanted to take Miyuki to see the sights in London b4 we moved to Japan, but sadly it wasn't do-able..
Phone cams r incredible now aren't they?
I just got a new docomo mobile here in Japan.. The phone is only a really basic jobby, but cam is outstanding with facial recog and everything..
Unbelievable for something that was free!!!

Posted by Jerry at 2009/09/09 03:43:23.
Comment 2
Hi Jerry! I think Japan is, as ever, way ahead of the game here - I love my phone, but the camera on it is at best OK! I've yet to see any really good pictures from a mobile camera in low light conditions...

Posted by John at 2009/09/09 07:57:44.
Comment 3
Yes, the eternal problem of low light..
However, I took some "snaps" of my niece Sayaka the other day, blowing the candles out on her birthday cake with the room lights out..
The resultant face all-a-glow by candle light was quite good.
5.2 mega pixel, lens the size of a pin head.. Unbelievable..
I think we forget the advances in tech stuff all too easily...
Slowing getting to grips using Kanji on it.. Great fun.

Posted by Jerry at 2009/09/11 02:45:55.