Lucy and Martin's Wedding
Posted on 2009/08/30 09:08:58 (August 2009).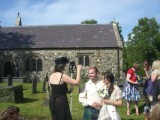 [Saturday 22nd August 2009]
Pictures from the wedding, at a rather lovely little church near where Dad lives in North Wales. I only really took pictures of the ceremony, will post links to other people's pictures of the reception when these become available.


Comment 1
Love the picture of your dad with the priestly garments and stuff... :D And bride and groom look very nice indeed!

Posted by Lox at 2009/08/30 10:29:36.
Comment 2
Thanks Lorenzo!

Martin is a professional photographer so there will be much better pictures to follow when he's finished editing and uploading all of his...

Posted by John at 2009/08/30 11:22:21.
Comment 3
John: Of course CONGRATULATIONS to Lucy on her wedding, I can't believe that she is the same one that came to visit us at Radstock :)

Posted by Lox at 2009/08/30 14:35:07.