Birthday Lunch
Posted on 2009/08/14 09:29:25 (August 2009).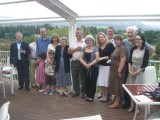 [Monday 10th August]
The main event of Vera's 90th birthday weekend, on her actual birthday - a big family meal at a restaurant near Abergavenny.

See the pictures for more info.



Comment 1
HAPPY BIRTHDAY VERA!!!! Please John can you please call her and give her my bestest wishes for her 90th birthday? Maybe she doesn't remember about me....
But I do remember her and she is totally great and I hope that all is well with her and the rest of the family! :D

Posted by Lox at 2009/08/18 07:16:37.
Comment 2
Thanks Lorenzo! Yes she is well, although I think she found all the celebrations over the long weekend a bit overwhelming!

We promised not to make a big fuss again until her 100th. :)

Posted by John at 2009/08/18 07:31:18.
Comment 3
But please next time you speak to your father or to her tell her best wishes from me too. I am sure that a 3 day celebration is quite long and when you get to a certain age you never want to be reminded of the years that went by... :P

Posted by Lox at 2009/08/18 12:40:49.