Rankin Live Opening Night
Posted on 2009/08/02 19:03:59 (August 2009).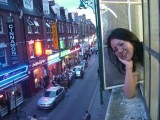 [Thursday 30th July]
I've recently started following whisky industry superstar Richard Paterson on Twitter. This morning I saw a tweet from him forwarding on a link to a blogpost on the Snow Leopard Vodka website with a chance to win an invitation to the opening night of celebrity photographer Rankin's new exhibition: Rankin Live, at the Old Truman Brewery on Brick Lane. I think Snow Leopard Vodka were partly sponsoring the event.

The question was pretty simple (name the grain that Snow Leopard Vodka was made from), so on a bit of a whim I entered and then didn't give it much thought. To my pleasant surprise I got an email later on in the day saying that I was one of the three winners.

So, after work, Chie and I headed over to Brick Lane. On arrival at Brick Lane, conscious that there would be free drinks at the event but probably nothing to eat, we thought it wise to have a quick snack first, and popped into a very popular bagel shop Chie had been to once before for an embarrassingly cheap filled bagel sandwich each.

We weren't really sure what to expect of the event itself - I'd read there were going to be some celebrity guests, and I'd never really been to this sort of "red carpet" type event before. Sure enough when we arrived there were a lot of paparazzi outside the door, which had several bouncers and a gaggle of those women-with-clipboards - whatever you call them. Eventually they managed to find my name on the guest list - I think I'd been tacked on as a bit of a footnote - and we headed inside.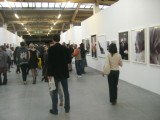 It was all very swish inside - champagne on arrival, and even though we got there quite early the place was already teeming with arty types - a delightfully eclectic mix of people. The Old Brewery makes a great space for this sort of thing - it's a big space, but the first half of it is kind of a series of corridors, so the exhibition isn't overwhelmed.



I'm not exactly an art critic so I'm not going to attempt to give a meaningful assessment of Rankin's work, but although they're almost entirely portraits there's a lot of variety in themes and subjects and I'm pretty sure most people would find at least something of interest here.

I was keen whilst there to try some of the Snow Leopard Vodka - given that they'd put us on the guest list - and eventually managed to find a couple of cocktails at one of the bars. One was a Moscow Mule and the other a French Martini. Not sure the French Martini was really my cup of tea, but the mule was simple and refreshing and very enjoyable.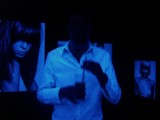 We got there not long after they opened at 6:30, and so by about 9 we'd seen everything we wanted to see, and had been all the way round twice. I guess the celebrity guests (in particular Gillian Anderson was apparently going to be there) were either being fashionably late or were discretely tucked away in a corner somewhere. So the only celebrities we saw were actor Marc Warren and possibly Erin O' Connor (a model)... but still there were plenty of trendy and glamorous people there who may or may not have been famous so I wasn't particularly disappointed.

So some time around 9 we headed out, and decided to get something to eat. Being on Brick Lane the obvious choice was of course Indian food, and after fighting through the rather irritating blokes trying to persuade us to go into their restaurants, we settled on a place called Shampan which Chie had been told by colleagues of hers was pretty decent. It was actually pretty good - whilst the vegetarian thali I ordered was fairly average, the vegetable kofte we also ordered were very tasty indeed.

Overall a very fun and unusual night out, thanks very much to the folks at Snow Leopard Vodka for the invitation!



Post a comment