Tunbridge Wells
Posted on 2009/04/12 22:16:26 (April 2009).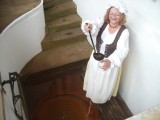 [Sunday 12th April]
A day out to visit Tunbridge Wells to taste the famous Chalybeate spring water, wander through the Pantiles, and go for a ride on the Spa Valley railway.



Comment 1
Nice stuff... I have never been to a SPA in England but they must be pretty good, even the Romans liked it there... :P

Posted by Lox at 2009/04/12 22:38:26.