Easter Saturday
Posted on 2009/04/12 22:16:26 (April 2009).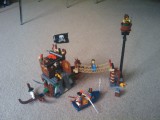 [Saturday 11th April]
Spent the morning regressing to childhood and playing with Lego. Pirate Lego to be precise.

Went out with Chie in the afternoon for a bit of shopping and a bit of a walk. Not particularly eventful, I bought a few odd things including an Easter egg from Charbonnel and Walker, a new shirt to go with my tweed jacket, some cheese and biscuits from Paxton and Whitfield on Jermyn Street.

Oh and we had lunch at Tibits again.

Chie cooked again for dinner, tonight we had a Japanese curry.



Comment 1
I think you should make a stop frame animation with thos pirates!

Posted by Simon W at 2009/04/14 13:16:35.