Up to North Wales
Posted on 2009/03/31 19:53:49 (March 2009).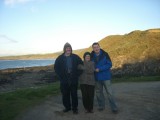 [Friday 27th March 2009]
Traveling up to North Wales.


Comment 1
Beautiful pictures I especially love the cigarette case one, it's really cool, I wish I had one of those... :P

Posted by Lox at 2009/04/01 18:31:01.
Comment 2
Thanks! In fact Dad has passed the cigarette case on to me, it's really nice to have a great family heirloom like this, which is pretty much a hundred years old!

Posted by John at 2009/04/01 20:55:48.