More Family
Posted on 2009/02/25 21:44:03 (February 2009).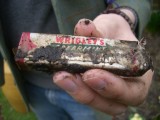 [Sunday 22nd February]
Started the day with breakfast in our third room at the hotel. Then checked out and headed over to Mum's where we spent the morning largely out in the garden. There's a ceramic barrel in Mum's garden, with a little hole in the top. When we were kids, Adrian had dropped a packet of my chewing gum in there. I'd fished it out once before a few years back, and felt it was somehow fitting to do this once again with Adrian there. You'll be relived to hear I put it back again afterwards.

Lunch was a Sunday roast at Mum's. After lunch spent a while playing with the kids - including a game of Bingo! Some time after 3 we sad our goodbyes, and got a lift to East Midlands Parkway with Adrian.

On the train back to London the seat reservations screwed up again. Bloody East Midlands trains.



Comment 1
Did you take a photo this time ?

Posted by Kev at 2009/02/26 09:32:46.
Comment 2
Mother did! I've emailed it to John as I don't think I can upload pix to this site.

Posted by John's Mum at 2009/02/26 14:06:57.
Comment 3
Took lots of pictures this time, will upload them soon.

Posted by John at 2009/02/26 20:33:44.
Comment 4
Right - have just added a link to the pictures - see above.

Posted by John at 2009/02/26 23:14:23.
Comment 5
Love this story of the chewing gum pack :D

Posted by Lox at 2009/02/27 07:52:48.