Ramsgate
Posted on 2009/02/08 11:08:49 (February 2009).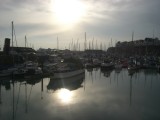 [Wednesday 4th February]
Don't ask me why I went to Ramsgate today. I'm not even sure myself.

Consider it a spiritual journey if you like.




Comment 1
Grandma Hemstock lived in Ramsgate for a few years.

Posted by John's Mum at 2009/02/08 15:40:08.
Comment 2
It turns out Sir Frederick Seager Hunt is buried here, in St. Lawrence's church. I'd started to research about him a few months prior to this. A coincidence or something subconscious?

Posted by John at 2011/03/27 14:00:24.