Heligan and The Smuggler's Cottage
Posted on 2008/07/04 19:46:25 (July 2008).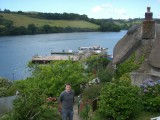 [Thursday 3rd July]
Sounds a bit like the title of a Harry Potter book doesn't it?

Anyway, today we went to the Lost Gardens of Heligan, which was a significant improvement on yesterday's rather disappointing visit to the Eden project. For a start it was a lot cheaper to get in, and there were a lot less people there. Moreover though it had a much nicer ambience to it - a garden constructed for the quiet reflection of Victorian aristocracy, rather a formulaic tourist attraction for hordes of 21st century holiday makers.

Perhaps most interesting to us were the fruit and vegetable gardens. They grow all sorts of things here, from artichokes to pineapples, originally presumably to feed the family and their guests, although now I'm not sure where all this produce ends up.

So a definite thumbs up for Heligan from me.

On the way back to the house we wanted to stop off for a quick drink at the Roseland Inn in Phileigh - apparently a 16th century inn - although alas when we got there it was closed for the afternoon. So instead we proceeded onwards to the fabulously twee "Smuggler's Cottage" near the King Harry Ferry, a tea room / garden which oddly had a bar as well. It's a beautiful little building set in an absolutely fabulous spot - I hadn't realised that it looked across the river to the Tregothnan estate - the only tea growing estate in the UK. So we absolutely had to have Tregothnan tea. Not sure if it was just down to the ambience, but it was probably one of the best cups of tea I have ever had - it had a remarkable purity to it, whilst also being very deep and full flavoured - lots of "umami", and the tanning was very well balanced. The scones were to an extremely high standard as well - freshly cooked on the cottages Aga just minutes before.



Comment 1
Wonderful pics. You know, John, I'm going to tell you something which won't please you: you and I are very much alike...
Of course, I'm a provocative, unstable git (hey I've got Latin blood in my veins!). You, you are a typical British citizen endowed with an insufferable placidity. And you're a computer freak.
Still, we both appreciate landscapes and authentic places. (or so I believe)

Posted by Sheri at 2008/07/07 09:05:01.
Comment 2
2018????????? ?????????
??????????????? ????
???????????????????
?????????????????
??????????????????
??????N???????????
?????!???????(????)!
???????????!100%?????
??????????????????

Posted by ??? ??????? ?? at 2018/09/29 10:53:20.
Comment 3
" }}}}}}
https://www.bagssjp.com/product/detail-479.html
https://www.bagssjp.com/product/detail-9573.html
https://www.bagssjp.com/product/detail-10190.html
https://www.bagssjp.com/product/detail-10979.html
https://www.bagssjp.com/product/detail-9401.html


Posted by addimbBax at 2023/06/01 14:36:03.
Comment 4
.., }}}}}}
https://www.kopi66.com/protype/list.aspx-id=248.htm


Posted by addimbBax at 2023/06/05 15:54:28.