The Eden Project and St. Anthony's Head
Posted on 2008/07/04 19:42:49 (July 2008).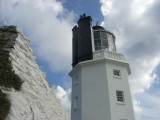 [Wednesday 2nd July]
Against my better instincts I decided we ought to go and visit the Eden project today.

Not unpredictably I didn't really enjoy it - it was mildly interesting in places, and I liked the overall idea, but I don't think it was significantly more impressive than other exotic gardens I have visited. Even the rather slightly lacklustre greenhouses in Shinjukugyoen, added as an after thought to the park, were probably on a par with this.

The other problem was that it was just so touristy. Even on a midweek day, before the schools had broken up for the summer, it was still thronging with zombie tourists, mindlessly trapsing about as though they were on a production line. They didn't strike me as the sort of people who had a serious interest in botany, and were just there because they felt that was what was expected of them. The price was a shocking £15 a head, and with a combination of that and the crowds I just wasn't really capable of enjoying it. The food was crap too - I'd thought with all those exotic plants there they might have some interesting and unusual vegetables on offer, but what my lunch actually seemed to amount to was a drearily bland vegetable pasty and some overdone chips.

After leaving the Eden project, we took a meandering route back to the house, which made for a much nicer (and cheaper!) way to spend time than any mass market tourist attraction. We went by way of Veryan to see the other round houses that we'd missed the previous time, and then also stopped off at Pendower (?) beach.

From there we headed to St. Anthony's Head, where there's a rather nice lighthouse, and some fantastic views out to sea to be had. The sky seemed so much bigger there than it does back in London, and looking out to sea we could observe a number of different weather fronts, as though we'd been shrunk in sight, and put on the map they use in weather reports. A lovely spot.



Post a comment