In Search of Buried Footwear
Posted on 2008/07/04 19:40:11 (July 2008).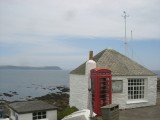 [Tuesday 1st July]
Portscatho is a village on the other side of the Roseland peninsula from where we were staying this week. It's a place Dad took me and my brother to for summer holidays a few years running when we were kids - over 20 years ago now. As such it was the venue for a piece of family history - the time me and my brother buried Dad's shoes on the beach. Somehow we were only able to recover one of them, and poor old Dad had to walk back from the beach with one bare foot. Whilst I maintain that my brother was the main instigator in this crime, I still feel somewhat guilty about it to this day.

So today we visited Portscatho - saw the little shop (now a fairly upmarket deli type place), the little restaurant (where as a child I had non alcoholic cocktails like the "Purple People Eater"), and the house we used to stay in. We then took a walk out of the village to the beach we used to spend most of our days at.

Unsurprisingly, we didn't find the missing shoe today, but it was very nice to revisit the venue for a childhood memory.

After returning from Portsatho we spent the remainder of the afternoon and evening back at the house, enjoying the general ambience. Louise and Ian headed home towards the end of the afternoon today, leaving just the five of us - me, Chie, Vera, Dad and Janie - for the remainder of the week.



Comment 1
Great pictures!! Was it so cold? I see Chie borrowed your ANORAK :D :D:D

Jokes aside, lovely trip you have had!! I am glad to see that your father has not CHANGED AT ALL in 10 year!!

Posted by Lox at 2008/07/05 08:31:34.
Post a comment