St. Just and St. Mawes
Posted on 2008/07/01 17:11:12 (July 2008).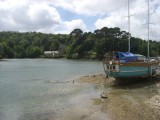 [Saturday 28th June]
The weather had definitely cleared a bit today, and we awoke to spectacular sea views, which was a jolly nice start to the day.

Louise and Ian (my aunt and uncle) and their dog Chloe arrived this morning, at an infeasibly early hour considering how far we've travelled. Suddenly it felt like Christmas.

Before lunch, Robin took me and Chie for a wander around St. Just in Roseland, particularly to see the famous church there. It is set in fabulous grounds which sweep down to a lagoon at the side of the Fal Estuary, and there's a slightly exotic feel to the whole place.

After that we headed into St. Mawes for the afternoon. We grabbed a spot of lunch there - chips and pasties, which, in the tradition of all great Cornish holidays, we ate sitting on the harbour steps. We also did a bit of shopping at the very well stocked Spar. It says something about the demographic of the local area that the Spar sells dried porcini.

Chie and I walked back from St. Mawes to the house. It's a lovely stroll along the coast, and the weather had improved further still (to the point that I actually caught the sun a bit - having been caught out by the fact it was cloudy earlier, and thinking I wouldn't need any sun cream). In fact the weather was so nice, that by the time we got back to the house I had convinced myself it would be warm enough for a swim, so Chie and I rushed in and got our swimming things, and rushed back down to the beach.

Normally when swimming in the sea in the UK, there's that bit at the start when you wade in up to your knees, thinking it is a bit on the chilly side, but once you're actually brave enough to get in fully it usually isn't too bad. Today though it remained bloody freezing throughout. I did actually get my head under, but only splashed about for about two minutes before I decided to get straight back out again. Chie very wisely remained on the shore.

Spent the rest of the evening back at the house, generally enjoying the ambience, and the fabulous late evening sea views to be had from the terrace.



Comment 1
I see Lou is still champion Pavlova maker! I ate three portions of a similar one on Ady's 18th birthday.

Posted by John's Mum at 2008/07/02 14:29:04.
Post a comment