Smithfields Karaoke
Posted on 2008/05/04 23:30:10 (May 2008).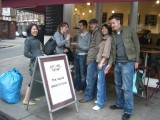 [Saturday 3rd May]
My friends Gav, Leon and Stew had decided they fancied a trip into London this weekend, and so earlier in the week we'd made plans to meet up, have a spot of lunch, and then spend the afternoon embarrassing ourselves at karaoke.

The plan was to meet up at 12, however unusually for me on a weekend I had a fairly busy morning ahead of that. I was long overdue for a hair cut, and decided I couldn't face seeing my friends (who are always very well turned out) with the shameful mess that was adorning my noggin. So I got up and left the flat just before 9 in search of a place in the local area where I could get a cut. I settled on the second place I came across that was open, having decided against the first place based on it being full of senior citizens. My hair was cut by a very animated Lebanese chap, with whom I got into a somewhat heated debate about politics. It was sad in a way, the conversation started by me asking him if he had voted in the mayoral elections, and it turned out he felt very disenfranchised by politics, and yet at the same time had all sorts of issues (taxes, crime, etc) he was deeply concerned about. Still, he did seem to appreciate the opportunity to get it all off his chest. I got the impression most of the conversations he had in there were of the usual somewhat banal "where are you going on your holidays?" variety, and he seemed to be brimming with gratitude about being able to have a dialogue with some substance for once.

After that I popped back to the flat before then heading into the centre to do some shopping for Chie's birthday, and heading on from there over to Smithfields where we were planning to meet Gav etc.

Gav had recently been to the new Karaoke Box place in Smithfields, and had been rather impressed by it, so that was chosen as the venue for the singing bit. As for lunch, Yukari-san had taken a look around on the web for places to eat nearby and came across Smith's of Smithfield, a sort of gastropub type place, which judging by the other clientèle was targeted very squarely at our sort of demographic. I quite liked it actually - the food was simple but tasty canteen type food - the sort one feels compelled to refer to with a words like "good honest grub" as opposed to anything with any kind of pretention to it, and pleasingly it was also priced accordingly. I had a vegetable and bean stew, and whilst it eventually got a little boring, it was certainly hearty and quite satisfying, and only cost about 5 quid.

It was generally agreed that the chips were very good.

So, after we were all sufficiently fed, we headed on to the main event - the karaoke. The new Karaoke Box place certainly was very swish inside, and quite different to the more authentically grotty one on Frith Street. There were however some technical difficulties - apparently the Japanese songs and English songs are on two different machines and it didn't seem possible to find a room where they could get both machines working. So we ended up with two rooms, which initially seemed a bit of a shame as it split our group up, but I suppose in hindsight this worked out quite well. Chie and Yukari-san didn't have to be bored listening to the rest of us sing English songs they'd never even heard of before, and effectively we were singing two songs at a time - so getting double our money's worth! We all made sure to pop backwards and forwards between the two rooms now and again, and so retained the social aspect of it all.

So that was jolly nice. We had the rooms booked from 3 until 6, but owing to the initial technical difficulties we had about a half hour extension on the end, and by the time we'd entirely finished up it was getting on for 7.

Before they all headed back to Canterbury it was suggested that we should go for one last quick drink and I was given the job of finding us a pub. Smithfields is just a stone's throw from Chancery Lane, and my favourite bit of London for pubs, so this task was one I took on with relish. Being a Saturday Ye Old Mitre was closed, and so we headed over to the Cittie of Yorke, which seemed to go down rather well - the fabulous back bar appeared to be much appreciated by all, to the extent that the one quick drink turned into two, and we were there a good hour and a half.

We said our goodbyes on the tube somewhere or other, Leon, Yukari, Gav and Stew headed off to get the train to Canterbury, and Chie and I headed back to the flat. A smashing day out.



Post a comment