Rye
Posted on 2008/04/20 11:18:34 (April 2008).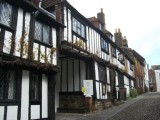 [Sunday 13th April]
Today was the London marathon, and having seen it last year, and thereafter been highly annoyed by all the crowds, we were determined to get right out of London and avoid it altogether this year. Last night we'd had a bit of a look around on the web for a nice place to go for a day out, and somehow had stumbled upon Rye. One of Chie's Japanese guidebooks cited it as being the ichiban kawaii* town in England, and my own research on the web suggested it had at least one extremely old pub. Add to that the fact it was near the sea, and it was a surefire winner.

We were surprisingly well organised today, we got up very early for a Sunday (around 8), and got on a train not long after 9. This was just as well, as being something of a backwater it took over two hours to get there (although part of that was just a long wait for the change at Ashford).

On arrivial, we were immediately delighted with this charming little town. After a short but fairly thorough wander around the lovely cobbled streets and old houses, we headed for the Mermaid Inn for an early lunch, keen to get ourselves a table as we assumed it would be quite popular. It is a beautiful old half-timbered building situated on a narrow cobbled street of the same name. The current building is almost 600 years old, but there has been an inn on this site for even longer than that.

We ate in the back bar there, Chie being very pleased to have got the seat nearest the huge open fireplace. The food was good but in our opinion a bit overpriced - Chie had the roast beef which came in at a hefty £11.50, and I had a omelette, which, although very nice, was a bit much at £8.50. Still, I suppose you are paying for the venue, and all that.

After lunch we had a further stroll around the town centre, and then headed out of town towards the sea. Although Rye was historically a port, the change in landscape over the years has meant it is actually now set a few miles back from the actual sea - there seems to be a lot of reclaimed land around here. So it was actually a fair old walk through the pleasant (although at times slightly wearisome) Suffolk countryside down to the sea. En route we passed Camber Castle (not really much to see there), but far better than that lots of wickle baby baa lambs. Chie was quite delighted. They seemed fairly comfortable with humans and came quite close to the footpath.

After a good hour-and-a-bit's walk we finally made it to the sea, which was a tiny bit of an anti-climax if anything - it wasn't exactly the most attractive bit of coastline in the UK - it was in the midst of a project to renew the sea defences, and the sea itself was a definite shade of brown. Still, it was nice to get some good fresh sea air in our lungs. We initially tried to cheat for the way back to Rye - and investigated buses and taxis, but it seemed neither of these options were particularly viable so eventually just bit the bullet and walked back.

On the way back to Rye we passed once more through the fields with all the lambs in. As we were walking along, I noticed one lamb had got stuck in a little water-filled ditch at the side of the field - he was paddling back and forth but couldn't get out. So I picked the little fellow up and put him back on dry land, where he was quickly reunited with his mother. It was a wondrously wholesome experience.

If anyone is nerdy enough to want to see the GPS tracklog of our walk plotted on Google Maps, then click here.

Back in Rye our thoughts started to turn to heading back to London, but given that we'd just missed one train (and there was only one an hour) we decided we should try to squeeze in a late spot of afternoon tea. We popped into a hotel on the main street where we got a very reasonably priced cream tea, with a very tasty fruit scone. A very pleasant way to round off our day out.

Somehow the train was actually a tad quicker on the way back. I watched the remainder of Nausicaa on my iPod, Chie slept, and the time passed fairly quickly. We got back to Victoria around 8, and walked back to the flat from there.

Back at home for the evening we had ramen for dinner - Chie had brought some instant ramen back from Japan. Very nice.

* In this context ichiban kawaii translates as "prettiest" I suppose.

Weekly New Year's Resolution Status:

1) Doing stuff in London - Well I think the night out with Lorenzo probably counts here - what with visiting my two favourite London pubs and the whisky society. Also today's trip to Rye - yes obviously Rye isn't in London, but it is somewhere we probably wouldn't have visited had we not been living in London.

2) Yes - saw Lorenzo!

3) Exercise bike - waiting for it to arrive.



Comment 1
I thought Rye was in Sussex, John, rather than Suffolk? Maybe they have relocated? :-)

Posted by Bryan at 2008/04/20 21:29:16.
Comment 2
I had a suspicion I had got that wrong as I was writing it...

...either that or it is something to do with the changing coastline over the years. :)

Posted by John at 2008/04/20 23:07:53.
Post a comment