Shinagawa, Chofu and Shinjuku
Posted on 2008/04/02 07:50:07 (April 2008).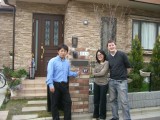 [Friday 28th March 2008]
A nice relaxing day - we hadn't really planned very much other than that we were going to stay the night at Aoki-san's house (a friend from my previous job).

In the morning we left Kamata and headed over to Shinagawa, where we were going to meet up with Yuka-chan for lunch. This was going to be our last time to see Chie's family during this trip, and we said our goodbyes at Shinagawa station. I imagine it will be at least another year before Chie and I come back to Japan again, but hopefully now that Chie's Dad has retired (as of the end of this month, officially) they might be able to come and visit us in the UK in the intervening time.

From Shinagawa, Chie and I then headed over to Chofu - the suburb of Tokyo where I used to work, and where my friend Aoki-san lives. It was the first time I'd seen his new house, up until the time I left Japan it had just been a flat plot of land (see here). This felt really good actually - finding a place to live, and then waiting for it to be built, had been a very long and drawn out process for him and his wife, and so I was really pleased for them to see the finished result. Aoki-san was particularly pleased with the luscious patch of green grass out the front - something of a rarity in Japan due to the climate.

We had lunch at Aoki-san's house, Kirilche-san (who is from Bulgaria) prepared us a feast from her homeland, of stuffed peppers and aubergines, and some sort of baked cheese rice which was all very tasty. Aoki-san then had a meeting to attend later on in the afternoon, so we followed him as far as Shinjuku, where we took the opportunity to do some shopping.

We spent the evening back at Aoki-san's house, enjoying more of Kirilche-san's fabulous Bulgarian hospitality - she seemed determined to make us eat until we collapsed from exhaustion.



Post a comment