Four Countries and Five Languages
Posted on 2008/01/26 18:20:49 (January 2008).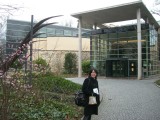 [Monday 21st January]
We'd both taken the day off work so we could turn our short break into a long weekend.

So in the morning, after checking out of our very nice hotel in Aachen, we headed over once more to Carolus Thermen which was in a sense the main point of the whole trip - to visit a hot spring in Europe.

Unlike yesterday's slightly disappointing spa experience at the hotel, this was rather good. They had a number of different pools at several different temperatures. A few of them were perhaps slightly more lukewarm than what we were looking for, but at least one provoked the all-important "aaahhhhhh" reaction that we were familiar with from hot springs in Japan. Plus there was a definite whiff of sulphur in places which reassured us this was genuine hot spring water. There is something distinctly primal about bathing in this kind of water, and I can really understand why this is such an obsession for the Japanese.

They had a couple of outdoor pools at this place as well, one of which had a sort of current thing which swept you round in a circle at surprising speed - that was a big hit with both of us.

Thinking about it a lot of it was very familiar from our visit to Thermae Bath Spa - and I couldn't help but wonder if the new spa complex in Bath had been largely inspired by this place in Aachen. There was a similar current thing in Bath, and even details like the changing rooms were definitely very similar.

So that was all rather successful.

Before leaving Aachen to head back to Brussels we had lunch at a charming little olde worlde place in the centre called the Rastkeller. I suspect it is probably aimed at the tourists somewhat, although on a drizzly Monday in January we were the only people in there, and the food was actually quite good. Again I ended up having a pasta dish with "truffle aroma", and again pleasingly I could actually detect the truffle. Better still, they served Kolsch here - a very light pils served in little glasses, that I had first fallen in love with in Koln.

Oh, and to tick one more item off the "to do" list for visiting a hot spring, we also tasted the water - it turned out there were spouts in the town centre where the water just pours out constantly. It was quite hot - over 50 degrees - and quite sulphurous, so I couldn't quite say it was particularly pleasant, but I did feel better somehow for having had a sip.

We got on the train back to Brussels around 3:30, and were back in the Belgian capital by 5. We then had four hours until our train back to London left - I'd originally hoped we might be able to find dinner somewhere near the Garde du Midi, but it turned out there wasn't really much around there, so once more we headed back into the centre.

After a quick visit to a supermarket to load up on waffles (mainly destined for Chie's colleagues) we entered into the usual harrowing bout of indecision over where to eat. Thankfully though our suffering was only brief on this occasion - I suppose the fact we had a train to catch later on helped us focus - and we decided upon the cafe nearby the Théâtre Royal de la Monnaie. So there was a nice kind of symmetry to this - we started and ended our time in Brussels in more or less the same place. Chie had wanted to eat Moules-Frites to tick off another of the obligatory boxes for a trip to Belgium, and luckily this place had that on the menu (and apparently Chie rather liked it as well). There was also a vegetarian lasagne on the menu, which wasn't wildly inspiring, but I was glad of having anything to eat really. Oh, and of course more Belgian beer - this time Maes I think.

So we then headed back to Gare du Midi, and headed to the Eurostar departure lounge. The train left at 9PM CET, which should have meant we'd have been back in London for 10PM GMT. Unfortunately though there was some problem en route, which meant we spent somewhere in the region of an hour-and-half stopped somewhere around Lille station. Still I guess it can't be helped. We finally pulled into St. Pancras around 11:30, and were home by just after midnight.

It occurred to me during the course of the day we'd been in a total of four countries - starting off in Germany, then going through Belgium and France on the way back to the UK. Moreover we'd spoken* and heard five different languages - German, Flemish, French, Japanese and English.

What seems wonderfully multicultural and exotic to me is presumably just an average day on the job for the waiters of Brussels' restaurants.

* OK - you're thinking - can they really speak Flemish? Well, I bought a phrasebook, and practised how to say please (alstoobleeft) and thank you (dank u wel) - so although I didn't actually say these words to anyone in particular (everyone seemed to speak French in Brussels), I did actually say them out loud at some point.



Comment 1
I liked the pictures, although I think that there wasn't an awful lot to shoot at, mostly because I have been told that Brussels and neighbouring places are quite "dull"... The weather seems to confirm it, although reading your accounts it seems that you have had quite a jolly time! The beers in the pictures seem SMALL, or is it just me?

Posted by Lox at 2008/01/30 00:14:48.
Post a comment