Truffle
Posted on 2008/01/18 21:42:16 (January 2008).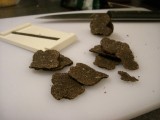 [Saturday 12th January]
I have had a hankering for truffles the past couple of weeks, ever since it dawned on me we were entering the season (for the Black Perigord variety, at least).

So today I decided to venture out to find some, and also get my hair cut while I was out. Chie seemed to have caught a nasty cold and decided she out to just stay in - so in an odd kind of role reversal for one of our weekends, Chie lolled around the flat all day whilst I went out shopping.

I initially tried Borough Market, and have to say I was very disappointed. In fact I'm increasingly thinking I don't like Borough Market at all. There was me, with a large wad of cash in my hand and some pretty extravagant tastes, ready to hand it all over in exchange for some kind of tasty morsel. Once it became clear that none of the stalls had fresh truffles I revised my plan to just buy anything that was exciting and gourmet-ish, and even then I was still very disappointed - there just wasn't anything there that really grabbed my attention. It's all bloody "organic ostrich burgers" - I am starting to think it isn't a real market at all, and is in fact more of a theme park - completely overcrowded, with a load of stupid people who think they're "foodies" because they're eating a slightly different kind of steak sandwich to usual.

So I came away empty handed (although still in posession of a lot of cash) and distinctly disappointed.

I had booked to have my hair cut at the usual place in Soho at 4, and had left Borough Market before 3 to head over there. I initially got on the tube to head into the centre, but by Southwark I had realised I had become very irritable over the whole Borough Market incident, so I decided to get off there and walk the rest of the way, hoping it would calm me down a bit.

I walked over Blackfriars bridge on the way, and bathed in the tremendous views along the Thames from there - even after a year of living in London the appeal still doesn't seem to have worn off.

I got to my hairdressers just before 4, and enjoyed the usual hour chatting away with Tomoko-san in Japanese whilst she transformed the embarrassing mess atop my head into something which was actually quite respectable. Some of the other customers got involved in our conversation at one point, after which they all did the usual "sugoooooiiii ne! nihongo pera pera!" (which translates as "wow - you're fluent").

This kind of exclamation is of course a bit over the top for my level of Japanese (and I've often found it quite amusing how people say that after they've only heard me say two words of Japanese), but it is nice to hear nonetheless. I guess Japanese people living here in the UK don't often encounter non-Japanese people who can speak the language, so it must be a bit of a surprise.

After leaving my "Japanese conversation class" - you know, even though it isn't a particularly cheap place to get a haircut, it may still work out cheaper than paying for proper lessons - I set out with renewed vigour once more to find one of those elusive truffles.

I'd had quite enough of the hoy polloi of the trendy farmer's market type venue, and thought I should try a different tack. So, enter Fortnum and Mason - none of that ostrich burger nonsense, just simple good old fashioned fine foods and unadulterated extravagance.

I headed straight for the food hall downstairs, and could see behind one of the counters, in a little cabinet, they did indeed have fresh truffles. The sign was, however, a little daunting - it appeared to read "Fresh Truffles - £300". I think I had got the impressions this was the price each. A bit of a shock. On closer inspection it turned out this was actually £300 per 100g - yes, that's £3000 a kilo. So I plucked up a bit of courage, and asked the very well spoken gent behind the counter to weigh one for me, and tell me the price. Modesty forbids me to tell you the exact price, but let's just say it is far and beyond the most expensive single article of food I've ever bought - the previous claimant to this accolade being the last truffle I bought.

On the way back home I stopped off at our nearest Sainsbury's to pick up some things to help Chie get better, and also popped into the little Italian delicatessen near where we live, to buy some really good pasta to have with the truffle.

Dinner was of course a real treat - I used half of the truffle, shaved thinly, and mixed with melted butter and the mafalde pasta. It was quite divine - the truffle had excellent marbling on the inside, and the end result was wonderfully rich and fragrant. Fabulous.



Post a comment