Cornwall for Dummies
Posted on 2007/08/22 22:10:48 (August 2007).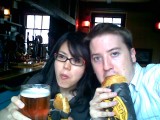 [Sunday 19th August]
Mostly a fairly lazy day. Left the flat towards the end of the afternoon to do a spot of shopping. My job has turned out to include quite a lot of statistics work, a field which I realise I know very little about. So, partly for my own education, and partly for the amusement of my fellow colleagues, I wanted to buy a copy of Statistics for Dummies. However, I had a quick flick through it in a bookshop and it occurred to me I would probably never actually read it, so in the end I didn't bother. Instead I bought Raw Spirit by Iain Banks - a book about whisky, not statistics.

Our foray into a couple of bookshops had given us both an appetite, and so we marched purposefully out after this activity, in search of some form of sustenance. A fairly meandering wander took us to Covent Garden (partly because I wanted to find a couple of pubs I'd read about recently). I'm not actually a big fan of Covent Garden - it is of course very touristy. However, one place I had been keen to try was the West Cornwall Pasty Co's pasty and beer place - The Cove. Sure, it was all a bit artificial, and the "Cornwallana" (I'm trying to express a term akin to "Americana" but for Cornwall) was all a bit twee - it was obviously aimed at tourists, and yet I couldn't help actually quite liking it. Beer and a pasty is a real winning combination, there were some interesting Cornish beers there, and the decor, albeit obviously fake, was oddly appealing.

Back at home in the evening I made a lasagne for dinner, which Chie struggled to eat very much of on account of the pasty we'd had earlier.



Post a comment