London August 2007

August 2007

Pictures in August 2007, mainly in London, but also including a trip to Newbury for David's housewarming party.



Chie's Hair Thingy
Wednesday 01st August 2007
Just one random picture of Chie's thingy for tying up her hair (she wanted to see how it looked, and the camera is much easier than a mirror!).



Jokki
Friday 3rd August 2007
A few pictures of the rather fabulous jokki Tanaka-san sent from Japan.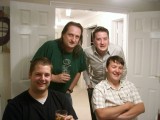 David's Housewarming Party
Saturday 4th August 2007
A few pictures from David's housewarming party in Newbury (not London!).



Buying a Picture
Sunday 5th August 2007
A shopping trip in London that resulted in me buying a picture to hang up in our lounge.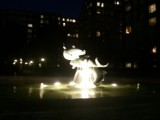 Fountain
Monday 6th August 2007
Just one picture of the fountain in our communal gardens by night.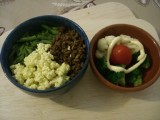 Chie's Dinner
Tuesday 7th August 2007
Dinner Chie made for herself.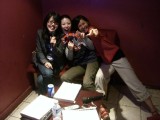 Karaoke and Okonomiyaki
Saturday 11th August 2007
Day out with Chie, Yukari-san, and Eri-san to sing some karaoke and eat some okonomiyaki.



Picnic on Primrose Hill
Sunday 12th August 2007
A few pictures from an afternoon picnic on Primrose Hill, with one of Chie's friend from work.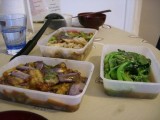 Chinese Takeaway
Monday 13th August 2007
A few pictures of the Chinese takeaway we had for dinner.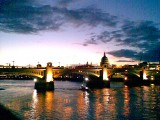 Thames by Night
Thursday 16th August 2007
A couple of low quality mobile phone pictures taken of the Thames by night, at the end of a pleasant evening's outing to Southwark.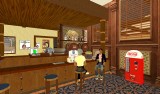 Going Out For a Beer with Kev... Virtually
Friday 17th August 2007
Kev and I occasionally meet up for a virtual beer and a chat in Second Life. I thought I'd take a couple of screenshots for once.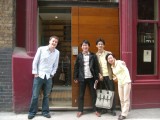 Whisky Club
Saturday 18th August 2007
Lunch at the Green in Clerkenwell and then an afternoon of malty pleasure at the Whisky Society.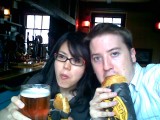 The Cove
Sunday 19th August 2007
Just one picture, taken whilst having an afternoon beer and pasty at the Cove in Covent Garden.